Pasta with cheese and asparaguses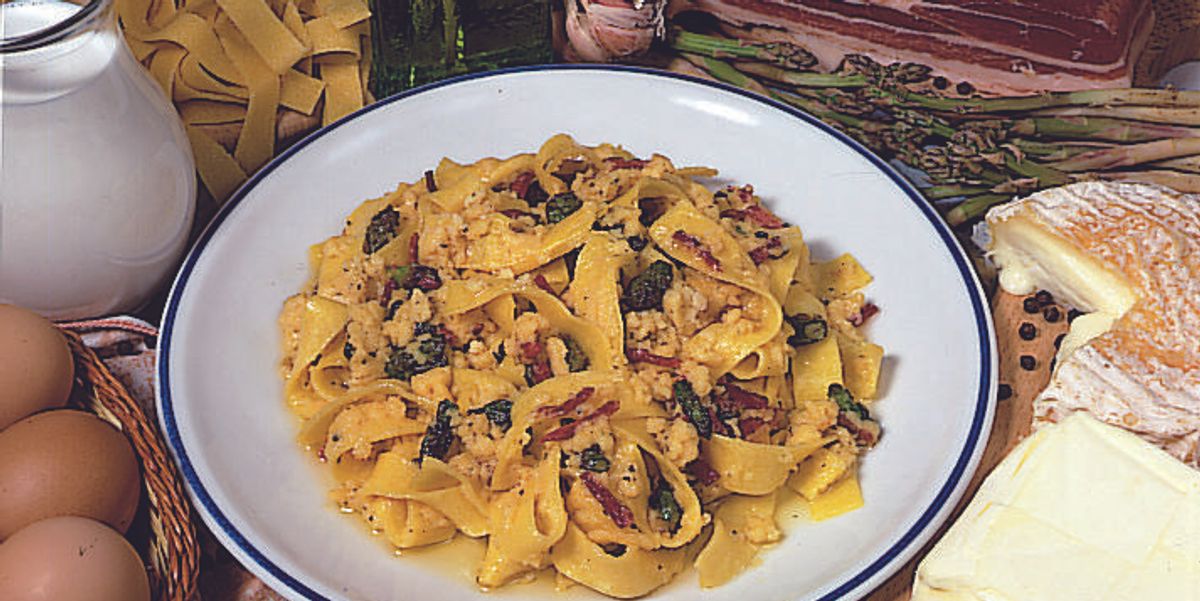 Italian toma cheese and asparaguses are the protagonists of this version of the carbonara pasta.
The traditional Italian pasta with cheese and asparaguses is an easy and quick recipe. Toma is an Italian soft or semi-hard cheese and it is famous for its excellent melting quality. If you can't find it you can replace it with the muenster cheese; if you want a lighter dish you can replace it with ricotta cheese. Pasta with cheese and asparaguses is for everyone, in particular for those who love the quick flavorful pasta main courses with rich sauces. Like many recipes passed from family to family, even the pasta with cheese and asparaguses has many variants. Sale&Pepe has chosen to prepare the pasta with cheese and asparaguses using long egg pasta and fried asparaguses, flavored with lard and bacon; the dish is completed by stirring it on the heat, with a sauce based on cream, cheese, and egg yolks: a main course creamy and very tasty! It is not difficult to prepare! Do you have all the ingredients? Let's start!
Prepare the fry
Wash the asparaguses, remove the ends, and cut into small pieces. Fry in a large non-stick pan the chopped lard, the pressed garlic, the butter, and 3 tablespoons of extra virgin olive oil. Remove the garlic and add the sweet bacon cubes and the slices of smoked bacon.
Cook the asparaguses
When the bacon is browned, add the asparaguses, season with salt and pepper, and add a little quantity of water. Cover the pan and continue cooking for 10 minutes, until the asparaguses soften.
Prepare the sauce
Melt the cheese with the cream in a casserole pot and pour the mix into a bowl. Add the yolks, the grated parmesan, season with pepper, and stir.
Cook the pasta
Boil the tagliatelle in salted water, then drain and put them in the pan with the asparaguses. Remove from the heat, add the pasta to the eggs and cheese sauce, and stir to mix well the ingredients.
Complete the dish
Place the pasta with cheese and asparaguses in the plates and, if you want, add a sprinkle of grated parmesan on them.