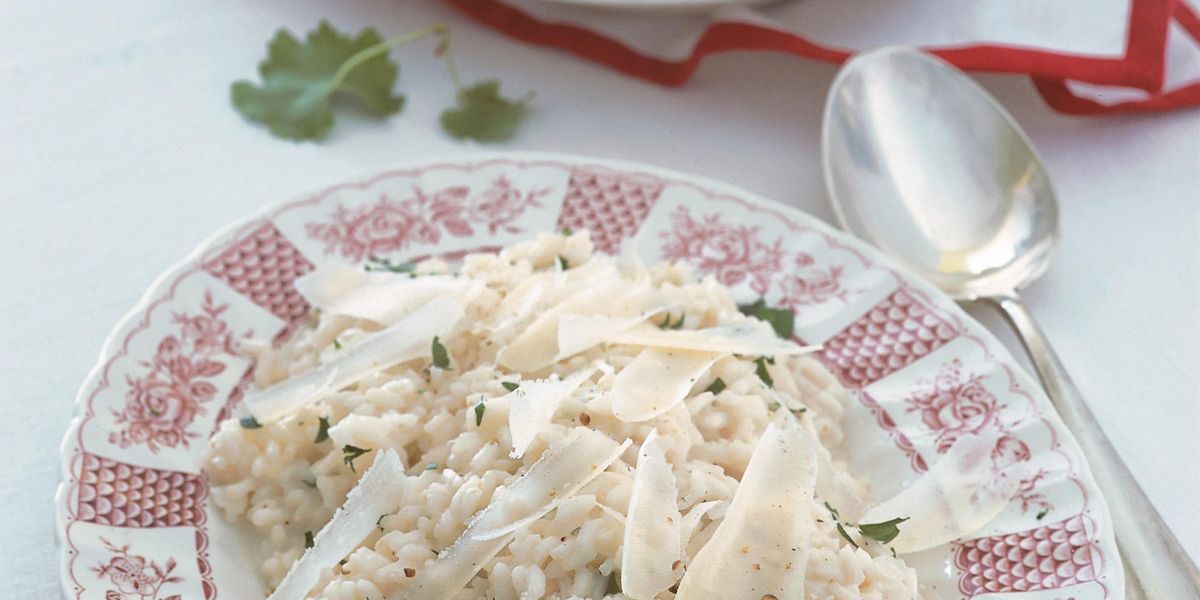 Very easy to prepare, but successful for sure, Sale&Pepe's prosecco risotto served with parsley and cheese flakes has a delicate but persistent flavor, satisfying and sophisticated at the same time; it is a first course suitable for everyone, even for children, since the wine alcohol evaporates during the cooking, leaving a delicious aftertaste. The prosecco risotto is perfect for holidays, but also to amaze last-minute guests with a quick to prepare dish, characterized by a pleasant and elegant taste. For the excellent success of the prosecco risotto it is recommended to use a prosecco wine of quality, that can donate an unusual but pleasant flavor to the dish, with a fruity aromatic note, slightly bitter but delicious to the palate.
Prepare the fry and toast the rice
Peel the onion, thinly chop it, and let it slowly fry in a large casserole pot with 1,5 oz of butter and 3 tablespoons of extra virgin olive oil. Add the rice, mix, and let it toast for few seconds on high heat, stirring frequently, until the grains become translucent.
Add the wine
Pour the prosecco into the rice, lower the heat, and continue cooking, frequently stirring with a wooden spoon, until the wine evaporates completely.
Cook the rice
Season with salt and pepper, then gradually add the hot broth to the rice every time it dries.
Complete the risotto and serve
Just before the end of the cooking, stir the rice for few seconds with the remaining butter, then turn off the heat. Serve the prosecco risotto, garnish the plates with some parmesan cheese flakes. Add the chopped parsley, and if you like it, you can add more pepper.