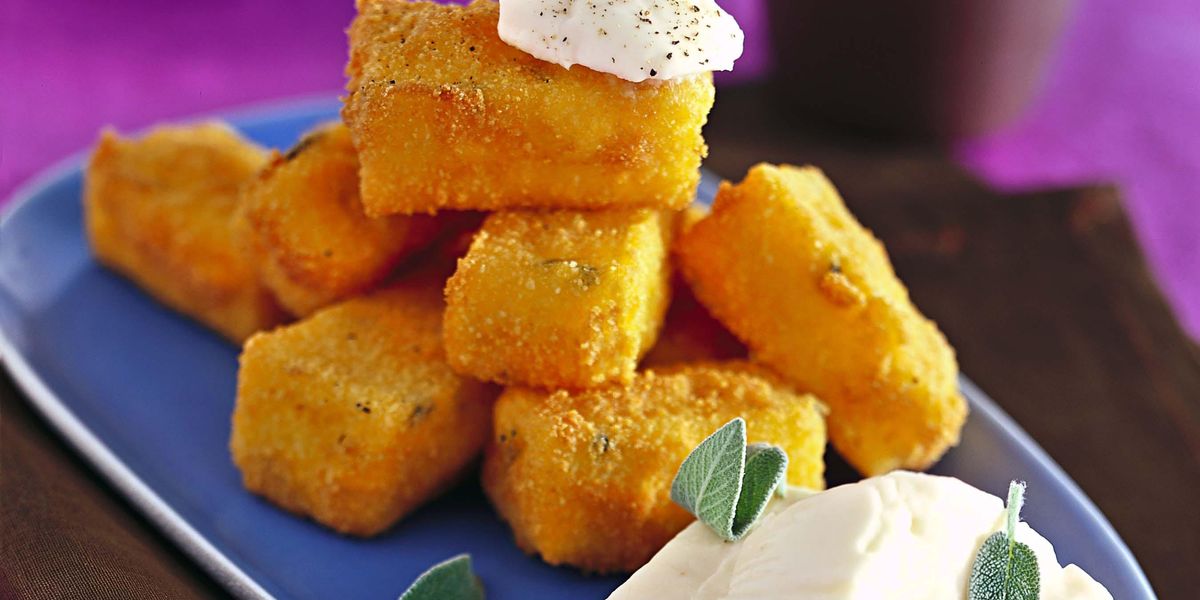 Enjoy polenta bars as a tasty and nutritious dish, perfect to offer for a cheerful dinner.
Preparation of polenta bars. To make these tasty polenta bars, pour in a saucepan half a liter of water, milk, and a handful of salt, add the sage leaves after washing and cut into julienne, and brought to the boiling limit; add the flour pouring it to rain, Mix with a whisk to avoid lumps, and cook polenta, respecting the times you will find on the package.
Move the polenta from the fire, incorporates 7 ounces of crescent cheese (but first cut it into pieces), a bit of pepper, grit, and then stir vigorously until you see the cheeses completely dissolved; then adjust the salt, pour the polenta over a sheet of parchment paper, with the back of a spoon flatten and equalize it in a rectangle about 1 ounce thick and then let cool.
Cut the polenta in order to create bars of the same size, then put them in beaten eggs and bread crumbs and dip them in plenty of hot oil. Fry until they are browned evenly, drain on paper towels, and finally serve very hot, accompanied by a crescent cheese.
News about polenta bars and polenta in general Rustic and inexpensive, the polenta bars betray their peasant origin. But the recipe of polenta bars with the soft and creamy crescent cheese enriches and enhances their crunchiness. Very pleasant is also the contrast between hot polenta and cold cheese. Polenta generally makes you think of cornflour, but in reality, it indicates any cereal flour-based food cooked in water. For example, spelled flour, or Egyptian spelled flour.