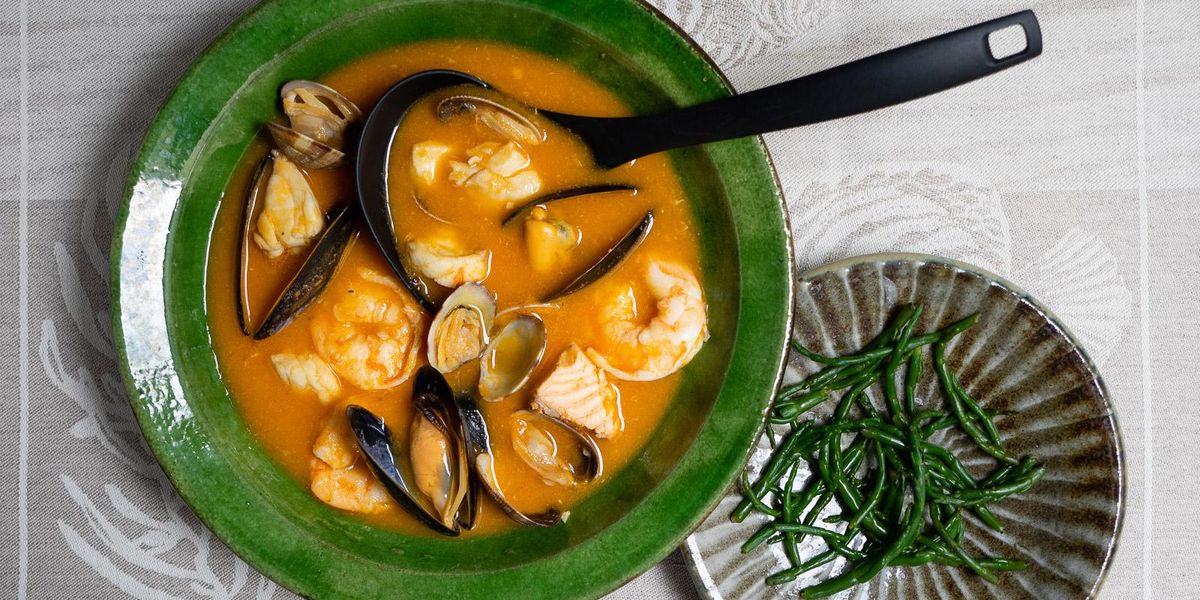 Somewhere between a soup and a stew, this zuppa is a delicious mixture of fish and shellfish that you can adapt to whatever is fresh and local. Each Italian region has its own favorite combination. This one, with tomatoes, comes from Campania, the region around Naples.
Heat the oil in a medium saucepan. Add the onion and cook over low heat until translucent, 3-5 minutes. Stir in the carrot and celery and cook for 5 minutes more. Add the garlic, the tomatoes and their juice, and 8fl oz/1cup/250ml water. Cook over moderate heat until the vegetables are soft, about 15 minutes. Purée in a food processor or pass through a food mill. Set aside in a large clean saucepan.
Peel the shrimp/prawns, placing the shells in a large saucepan. Remove the long black vein by using a deveiner or making a shallow cut down the center of the back. Discard. Refrigerate the shrimp until needed.
Add the fish bones and heads to the saucepan with the shrimp/prawn shells. Stir in the herbs and peppercorns and 1 ¾ pts/4 ½ cups/1 liter water. Bring to the boil, reduce the heat, and simmer for 25 minutes, skimming off any scum from the surface. Remove from the heat and strain. Combine this stock with the tomato sauce. Season with salt and pepper.
Scrub and rinse the mussels and clams in several changes of water. Remove any 'beards' from the mussels. Combine them in a large saucepan with the wine. Cover and steam until all the shells have opened. (Discard any that do not open). Lift the clams and mussels out and set aside. Filter the cooking liquid through a layer of paper towel or muslin and add it to the stock and tomato sauce. Taste for seasoning.
Cut the fish fillets into chunks, removing any scaly skin or bones. Bring the sauce to the boil. Add the fish chunks and boil gently for 4 minutes. Add the prawns and boil for 2 minutes. Stir in the mussels and clams and cook for 2 minutes more. Remove from the heat and transfer to a warmed tureen. Sprinkle with parsley and serve with rounds of warm bread.