Ancient seeds: a wealth of well-being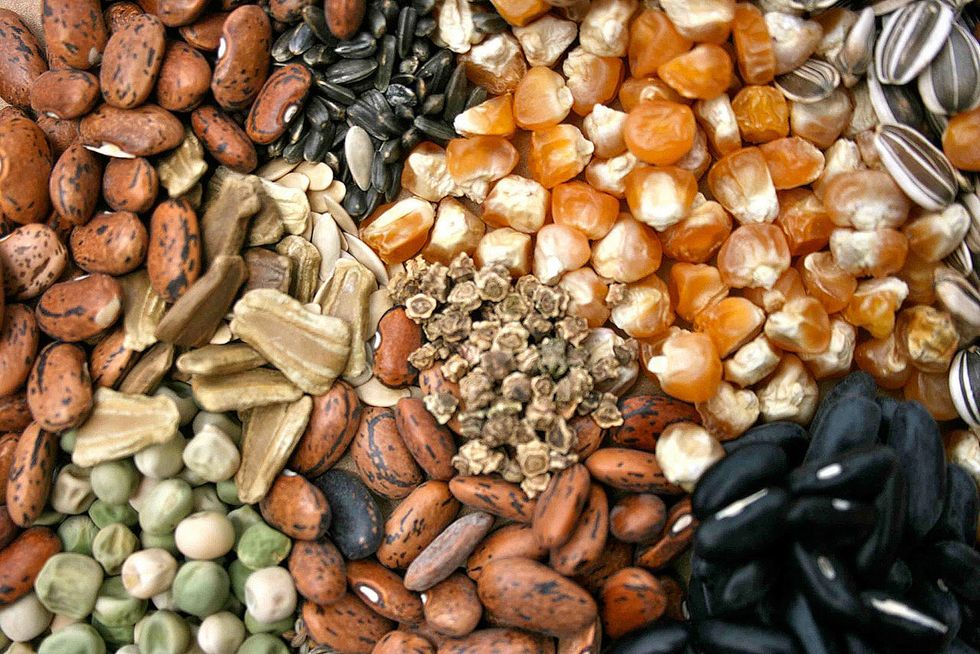 Eat well and nourish yourself with the richness of ancient seeds, a priceless heritage, but also threatened by modern society which prefers quantity to quality.
The life of every living being begins with a seed . Even at the table everything starts from a seed, or rather from seeds, the ancient ones: a heritage of very important nutritional value and in danger of extinction.
The proliferation of ready-made products that can be cooked in a few minutes testifies to how much today food has lost its ritual meaning and, from being a primary good as it was at the time of pre-industrial civilization, it has become a secondary aspect in the life of modern man. To find out more about the topic, we asked Alice Pasin , national contact person of the "Civiltà Contadina" association and green designer with a sustainability approach. Here's what he explained to us:
What are ancient seeds?
To talk about ancient seeds, we must first insert the concept of Biodiversity , literally "diversity of life", that is: the variety of living organisms, in their different forms, and their respective ecosystems.
Despite its vital importance for human survival, agricultural biodiversity is disappearing at an ever-increasing rate. It is estimated that, during the history of mankind, about ten thousand species have been used for the 'human nutrition and agriculture. Currently, just over 120 cultivated plant species provide 90% of food, and only 12 plant species and 5 animal species provide more than 70% of food. Only 4 plant species (potatoes, rice, corn and wheat) and 3 animal species (cattle, pigs and chickens) provide us with more than half.
In the last hundred years, hundreds of thousands of heterogeneous traditional varieties of plants, cultivated and developed by farmers through many generations, have been replaced by industrial agriculture, with a small number of modern commercial varieties, extremely uniform in quantity, quality and timing of production, easily transportable in large quantities, can be stored in the refrigerator and with not too accentuated flavors.
The seeds of ancient varieties are a way to oppose the so-called genetic erosion, that is the process of homologation of the genetic heritage of plants, to feed on food with the highest nutritional value, a heritage of inestimable nutritional value, but on the verge of extinction. Because little manipulated.
Are they easily available?
They are not, at all. There are several associations that deal with them by recovering, saving and cultivating them. The most important of these is Civiltà Contadina ( click here ): a non-profit association run by volunteers and founded in 1996. It is possible, by registering, to receive some varieties of ancient seeds to experience firsthand the experience of guardian farmer.
Sometimes something good is still recovered from the increasing number of seed exchange initiatives, but more often than not they are hybrid varieties in surplus or poorly reproduced species, not according to criteria that the real seedsavers know. Cultivating ancient seeds is anything but simple: for all non-self-fertile varieties (that is, they do not self-pollinate) it is in fact important to know the methods for extracting seeds and storing them correctly. Even to be a farmer you have to study!
Which are the best known?
Certainly for their ease of reproduction they are better known and cultivated ancient varieties of tomatoes or beans. The former are truly found in innumerable colors: yellow, white, orange, violet, black, green, zebra; of incredible shapes, with very few seeds , with sweet, firm, compact or watery pulp and there is no comparison with those you buy at the supermarket as organoleptic and nutritional qualities. So are the beans and potatoes. Good recovery work has already been done for cereals , especially in the plains.

A few tips for the season
In November , before the cold weather arrives, green tomatoes are still harvested. A variety that has a heart shape, very few seeds and all pulp, excellent for preparing Chutney to then put under glass. Ethiopian aubergines , typical of the Pollino Park area, on the border between Basilicata and Calabria, are used both to extract the seeds and to make preserves in oil . Milioni gherkins (botanically Cyclanthera pedata) also called caygua, a known tropical climber that can be lactofermented and preserved simply as if it were a pickled gherkin, or historically blanched in vinegar, stuffed with dry lake fish and then preserved in oil of Bellagio. This is a real rarity!
IN THE CENTER OF VARESE THE ANCIENT SEEDS ARE "FREE ZONE"
In the center of Varese there is the take away restaurant Zona Franca ( click here ) where if you have finished eating and want to take away the table made with recycled material ... Well, you can do it! All the furniture is on sale and the (liquid) space made available for evenings with performances , talks and presentations (From the end of October 2016 until June 2017, the Occupy the kitchen project will start ( click here ), a cycle of events in which artists , agronomists, activists, farmers, cooks, intellectuals, horticulturists and nutritionists tell their research and experiences ..)
It is here that the eclectic artist Franca Formenti prepares her dishes using ancient seeds . Defined by local newspapers as "the foodpower passionate" for her commitment to the theme of nutrition and the protection of the diversity of agricultural genetic heritage , Franca uses only raw materials grown with organic and biodynamic techniques and suggests two of her delicious recipes. :
Pumpkin cream
- Take a medium-sized delica pumpkin, peel it, remove the seeds and cut it into medium-sized pieces. Put them in a bowl, add garlic, rosemary, two cloves of garlic, rosemary, sage leaves in pieces and grease with extra virgin olive oil.
- Then pour onto a baking tray and bake at 180 ° (preheated) in static mode for 30/45 minutes until a fork enters the pulp effortlessly.
- Remove the pan from the oven, and the garlic, rosemary and sage, and pour the pumpkin into the mixer of a robot or a glass for smoothies, add the vegetable broth made the day before and begin to blend until it takes the consistency of a cream, it does not have to be a puree.
- Serve hot with ginger juice (grate it and then take the pulp and squeeze it a little over the plate), chopped chives, extra virgin olive oil, and a sprinkle of angoustura.
Vegan turmeric cake with autumn vegetable filling
350 gr of mixed flours: whole wheat, durum wheat semolina and white wheat flour 00
100 ml of high quality sunflower oil
1 tablespoon of turmeric powder
1/2 teaspoon of chili powder
1/2 teaspoon of salt
- Combine the ingredients and mix everything with your fingertips adding cold water until you get a smooth and homogeneous ball of dough.
- Put in the fridge.
- Take half a pumpkin, cut it into small pieces, and cut one or two courgettes into rounds. Put everything on the baking sheet, pepper, salt, rosemary, sage and extra virgin olive oil.
- Put in a preheated oven at 180 ° for 20/25 minutes, then remove and let it cool.
- Cut a Tropea onion into thin slices, put it in a bowl and add lemon juice, capers and salt. Mix everything.
- Remove the pasta from the fridge and divide it in two. Roll out the first part in a 28 cm cake tin, previously greased.
- Spread the pumpkin and courgettes over the pasta, taking care to remove the garlic, rosemary and sage, then pour the onion from the excess lemon and sprinkle the marinated mixture.
- Roll out the other half and cover the pan.
- Prepare an emulsion of extra virgin olive oil, cold water and coarse salt (50 / 70ml) and pour it over.
-Make some cuts on the surface of the cake and bake for 25 minutes at 180/185 °