Blueberries mille-feuille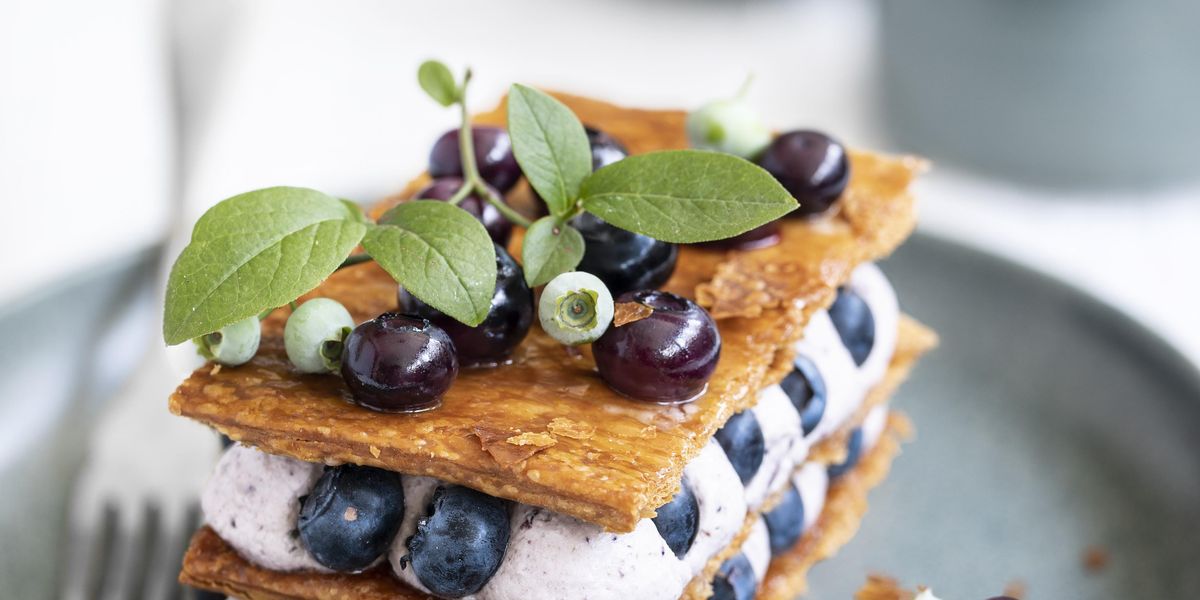 Bake the pastry
Lay the puff pastry on a baking tray lined with baking paper, cover it with baking paper, and place on it an identical baking tray; bake at 390°F for 18-20 minutes. Uncover the pastry and cook it for 3 minutes more; dust evenly the pastry with powdered sugar, and put it in the oven with the grill mode, in order to caramelize the sugar (always control it to prevent it from burning). Then remove it from the oven and let it cool. Cut the pastry into 2 large rectangles (long and narrow), then cut them into 12 equal little rectangles. Keep them aside.
Cook the blueberries
Blend 7 ounces of blueberries, put them into a little pan with 2 ounces of brown sugar, the lemon juice, and cook on medium heat; then let cool.
Make the cream
Whip the cream with the mascarpone cheese and the remaining brown sugar, then add the cold blueberries compound.
Compose the cake
Put the blueberries cream in a pastry bag. Garnish 8 pastry rectangles with the blueberries cream and décor it with some blueberries. Stack 2 filled rectangles and one empty for each serving, garnish with some blueberries and some blueberries leaves. Serve immediately.