Borage: 5 reasons why it is good and how to cook it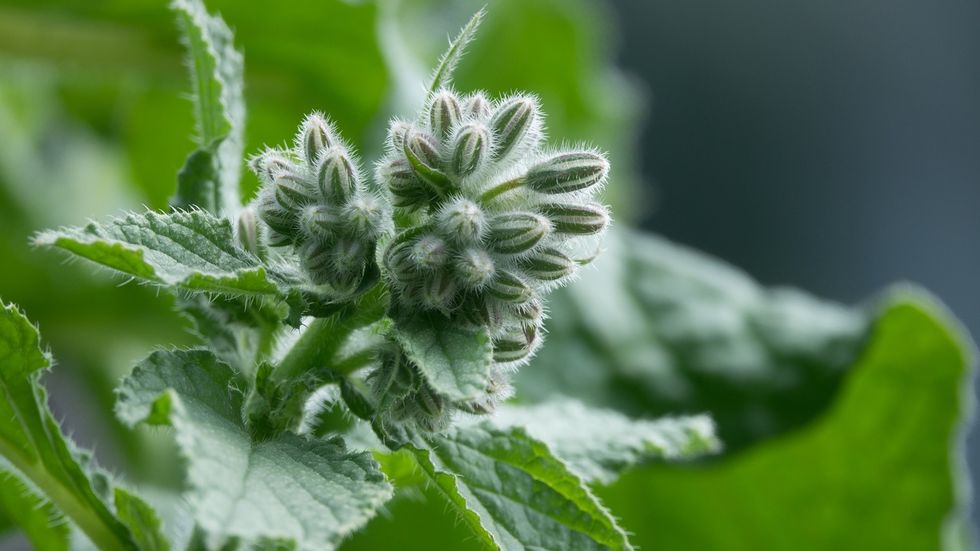 Fresh, healthy and versatile in the kitchen. Borage is an aromatic plant with many positive and beneficial characteristics for health.
An annual herbaceous plant of the Borraginaceae family, with characteristic-looking leaves and delicate blue flowers, native to southern Europe and the Mediterranean.
It is borage, already known in Roman times, useful and precious for our health.
Here you will find how to cook it and here instead we tell you five reasons to help us feel good.
It is anti-inflammatory
20510 Borage is rich in fats that are beneficial for the body. The seeds, in fact, as explained by Dr. Nadia Fiorentino, a nutrition biologist in Naples, "contain high quantities of essential fatty acids (omega 6 and omega 3), which seem to have a positive effect on inflammation and on the balance of the immune system" .
In the form of herbal tea, it is often used to relieve inflammatory diseases such as sore throats.
Useful for disorders related to the menstrual cycle
152969 Borage also contains phytoestrogens and for this reason, as well as for its anti-inflammatory action, it is useful for disorders related to the menstrual cycle. Close to your period it is easy to feel exhausted and in a bad mood, irritable and sad, presumably because the hormonal balance in our body is altered.
Borage helps in case of painful syndromes related to the menstrual cycle (such as chamomile for example). As Dr. Fiorentino tells us "Borage oil, in particular, seems to be supportive, for its anti-inflammatory action, for disorders of the female cycle characterized by pain (dysmenorrhea) also in association with feverfew, another anti-inflammatory plant".
Helps with skin problems and dermatitis
147 135 This plant also has beneficial properties on the skin thanks to the high content of antioxidants and thanks to its anti-inflammatory action. Borage oil, cold pressed, regulates the production of sebum and normalizes the skin, both in case of dryness and, on the contrary, in case of oily skin. "It is also a valid help in case of dermatitis, for example in association with burdock".
Beneficial for the intestine
159167 The presence of mucilage in borage (such as Mallow) makes it a valid remedy in case of constipation and intestinal inflammation problems.
Rich in vitamins and minerals
Borage is healthy because it contains vitamins and minerals.
It is a source of vitamin C, with an antioxidant effect and beneficial for the immune system; of vitamin A and manganese, as well as vitamins of group B, which modulate the metabolism.
There are also folate, calcium, phosphorus and magnesium (essential for the health of bones and teeth), potassium, iron and copper, important for the production of red blood cells.
Situations where it is contraindicated
In general, borage is contraindicated in case of pregnancy and breastfeeding, but also
in case of liver disease, surgery and for children.
Borage in the kitchen
But borage is also widely used in cooking, particularly in the Ligurian tradition, for example as a filling for pansotti, quadrucci and the well-known pasqualina cake. It is also often used for the preparation of lasagna dough. It is also used only boiled in a little water and seasoned with oil, both for the preparation of soups or soups.
Here is a recipe by chef Gennaro Esposito of the Torre del Saracino restaurant in Vico Equense (NA) to try it in the kitchen
SCAMPI SOUP WITH CHICORY RAVIOLI AND BURGINS
Ingredients for 4 people
500 gr of fresh scampi
300 cl of vegetable broth
300 gr of chicory
250 cl of extra virgin olive oil  200 gr of borage
50 gr of chopped celery, carrots and onions
2 sprigs of wild fennel
Some sprigs of aromatic herbs (thyme, rosemary, fresh oregano, tarragon)
1kg flour "00"
16 egg yolks
1 pinch of salt
Prepare the filling for the ravioli.
Shell the prawns and toast the heads in the oven for about 2 hours at 110 °, transferring them to a fairly high pan, adding a ladle of oil, the chopped celery, carrots and onions. Brown for a few minutes, adding the broth and cook for a few minutes without ever boiling everything. With the help of a mortar, crush the heads, pass through a sieve and set aside the stew thus obtained.
Clean, wash and boil the wild vegetables. Separately, brown the finely chopped vegetables in a pan with 100 g of oil, the garlic and the wild fennel for a few seconds and allow to cool.
For the ravioli pasta, combine the kilo of flour, egg yolks and a pinch of salt in a planetary mixer. Work the ingredients until you get a homogeneous mixture, leaving it to rest for 1 hour. Roll the egg pasta into 2 sheets of equal size 1 mm thin with a rolling pin or with the help of the special machine, then arrange many small quantities of filling on the pasta 4 or 5 centimeters apart. Brush the empty spaces around the filling with a few drops of water, cover the pastry with the other one by pressing with your fingers so that they adhere and preventing air bubbles from forming inside the ravioli.
In a pot with plenty of salted water, cook the ravioli.
In a frying pan, add the remaining part of the oil and brown the puffed herbs. Add a ladle of vegetable broth and add the previously drained ravioli, mixing a few seconds.
Meanwhile, sear the prawns in a pan with a drizzle of oil and over high heat.
Compose the dish by veiling the dish with the scampi soup, add the ravioli and garnish with the scampi.
Elisa Nata
April 2018
DISCOVER THE SALT & PEPPER COOKING COURSES