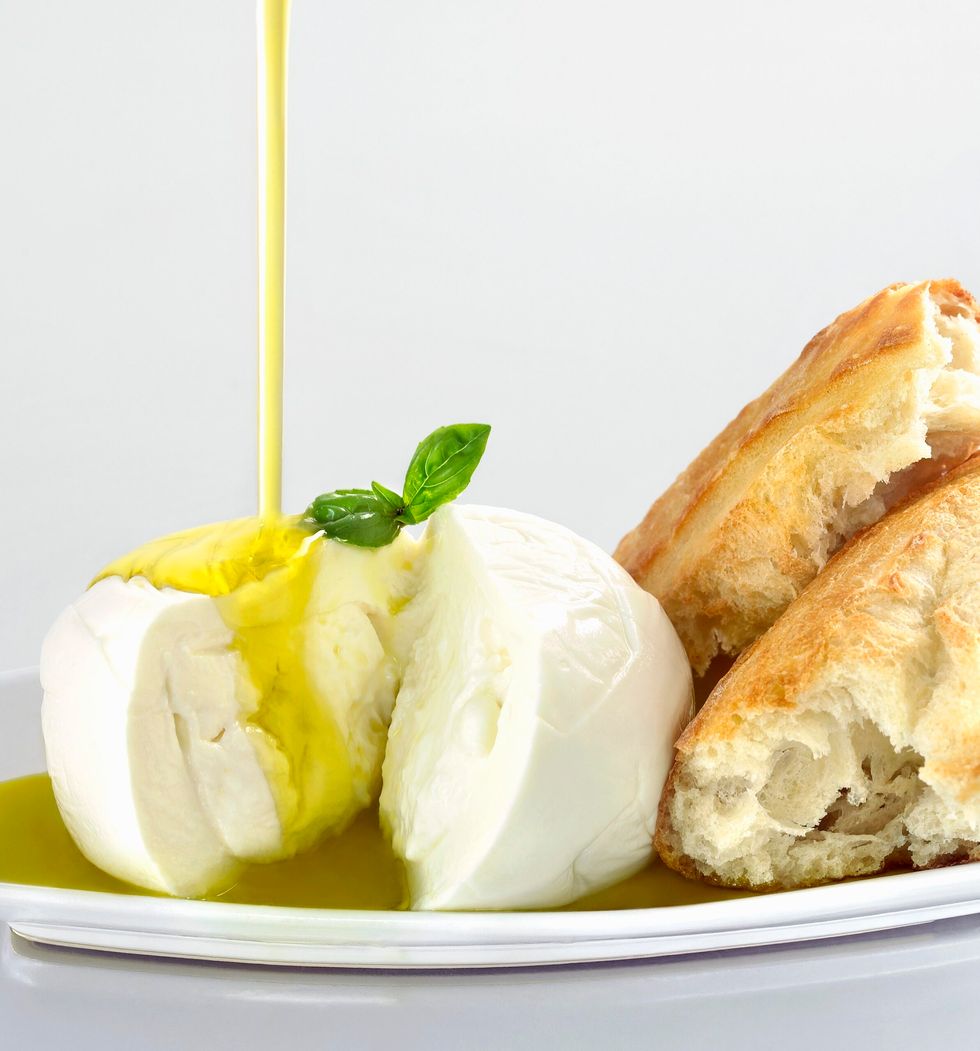 Burrata is an Apulian cheese made from cow's milk that looks like a large wrap of soft pulp in the shape of a balloon flattened at the bottom, with a diameter between 6 and 10 inches, which shrinks at the top (like scamorza). The creamy heart is almost fluid as soon as it is made and becomes more consistent as the days go by.
The cheese wrap is tied with stems of a spontaneous herb called "vizzo", or with ribbons of vegetable fiber. Burrata is certainly a very nutritious food, but not as much as it is believed: it contains 300-350 calories per 4 ounces, like buffalo mozzarella and a few more than classic mozzarella (250/300).
Thetaste is that of fresh milk. It is a cheese that contains a lot of cream and can also be spread on bread. The outer part is shiny and elastic and resembles mozzarella. The burrata, because of its high-fat content, is perishable. The packaged burrata lasts 10-15 days and can be kept in the fridge in the least cold part. If purchased in bulk, it is always kept in the fridge but should be consumed within 2-3 days.
The history of the burrata
Among the most delicious fresh cheeses of all, the burrata was born almost by chance in the 1930s, in an attempt to recover the leftovers of dairy processing. The production originated in Andria, in Puglia, and gradually spread to other secondary centers; among these, one of the most successful is Martina Franca. Typical sizes are 11 or 18 ounces.
How to use burrata in the kitchen
When the burrata enriches sauces and snacks or, more generally, is mixed with other ingredients, it is necessary to drain it carefully: the liquid part inside could in fact compromise the consistency of the dish. Put the burrata in a bowl, cut it into small pieces, and pour everything into a tightly meshed strainer. Mix very gently and then let it drain for about ten minutes.