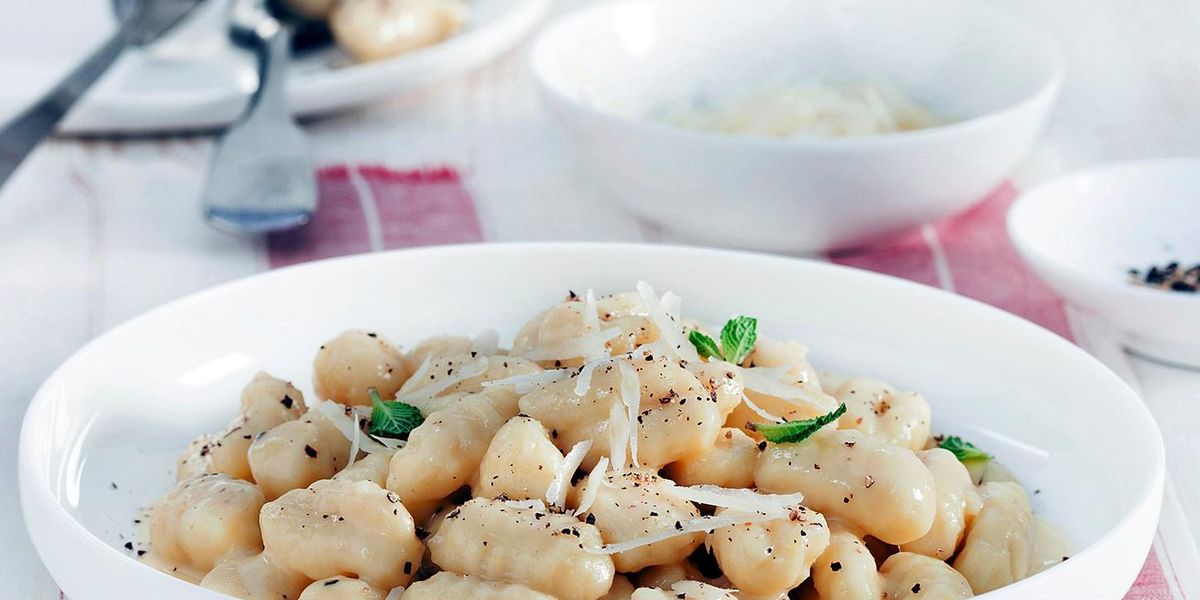 Cook the potatoes
Boil the potatoes in a casserole pot, filled with abundant fresh water and a pinch of coarse salt. The cooking time can range from 25 to 50 minutes, depending on the potatoes' size: calculate 20 minutes for 3,5 ounces of each potato. At the end of the cooking time check if the potatoes are ready: stick a toothpick or a fork into the potatoes, if it goes down easily the potatoes are ready. When ready, peel them when they're still hot, and mash them with the potato ricer. Create a nest with the mashed potatoes, add the flour, the eggs, and a pinch of salt. Then knead vigorously.
Prepare the cheese
Cut the stretched-curd cheese into little cubes.
Stuff the gnocchi
Using a weigher divide the dough into little portions of 0,4 ounces; create a hole with your hands and fill it with the cheese, then close it shaping a ball.
Prepare the pepper
Mince the black pepper using mortar and pestle.
Cook the gnocchi
Cook the gnocchi in boiling water with some olive oil and salt; as soon as they float, remove them with a slotted spoon. Keep aside some cooking water.
Complete and serve
In a hot pan toast the pepper, then add the gnocchi and some cooking water. Lower the heat, and add the pecorino cheese. Mix the gnocchi, then serve, and add some wild pepper.