Cannons with pastry cream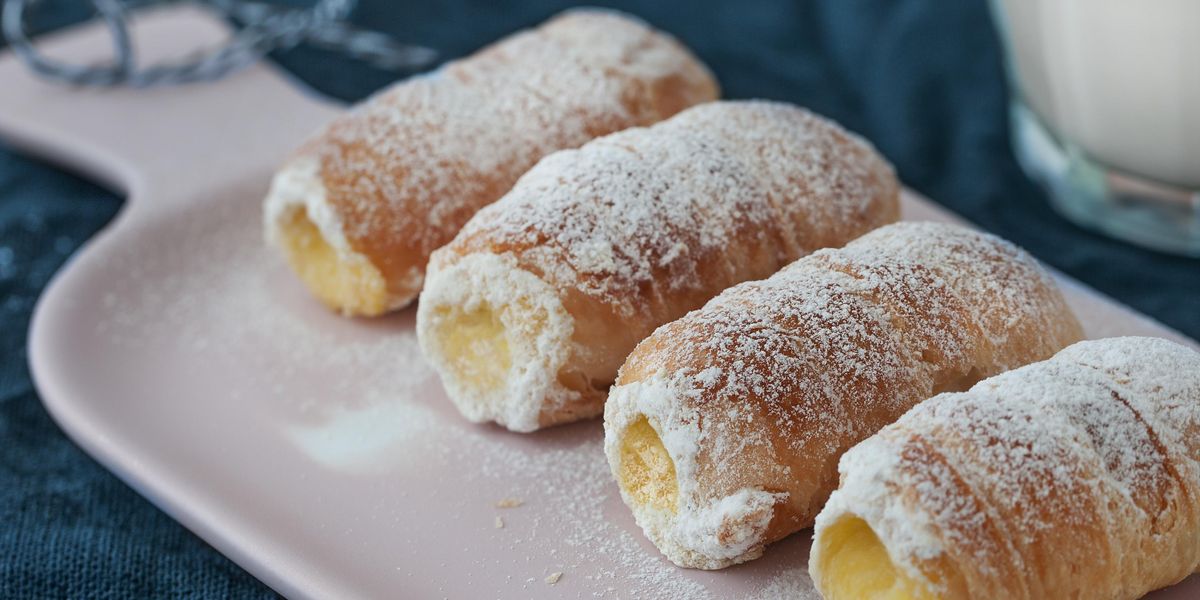 Start the cannons by preparing the cream. Combine the egg yolks with the sugar in a saucepan and whip with the whisk until you get a light and fluffy mixture. Add the flour and stir with a wooden spoon. Heat the milk with the lemon zest taken with a potato peeler, pour it on the egg yolks and stir constantly to avoid lumps. Let the cream thicken on low heat for 5-6 minutes and let it cool in a bowl, covered with plastic wrap.
​Get the cannons ready. Cut the puff pastry into strips of about 2x25 cm. Starting from one end, wrap 1 strip around the cylindrical torch slightly overlapping the edges, until you get to a little less than half. Wrap another strip at the opposite end of the torch, without touching the cannons. Prepare the other cannons in the same way until the pasta is exhausted and transfer them to the fridge. Meanwhile, melt the sugar with 2-3 tablespoons of water for 2-3 minutes until you get syrup and let it cool.
​Brush the cannons with the syrup, arrange them on a baking sheet lined with baking paper and bake in the oven already hot at 374°F for about 15 minutes, let them cool, and remove them from the torches. Remove the lemon zest from the cream, transfer it into a pastry pocket with the nozzle smooth and stuffed cannons. Pass the open end in powdered sugar, sprinkle the cannons, and serve.