Caprino cheese and herb stuffed chicken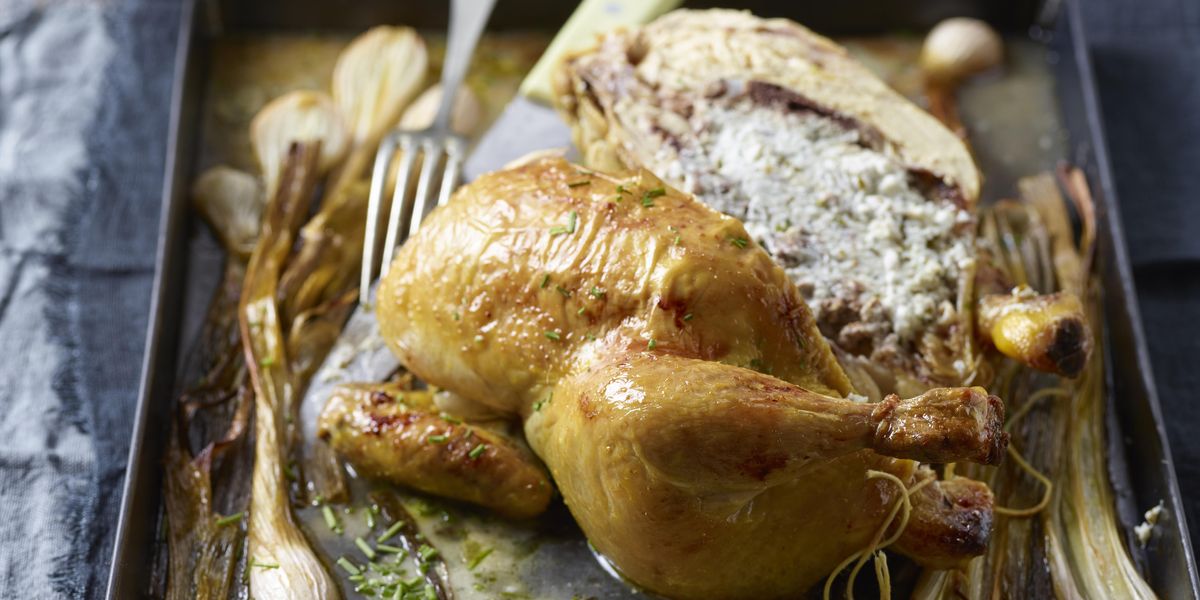 Prepare the caprino cheese and herb stuffed chicken. Chop the chive and the tarragon. Mix caprino cheese and ricotta in a bowl and add the chopped herbs; work the mixture until the whole is well blended. Wash and dry the chicken, add some salt and pepper on the exterior and introduce the herbs and cheese mix inside it; then close the openings. Grease evenly the chicken with clarified butter and tie the legs and the wings with butcher's twine so that they adhere to the body.
​Transfer the chicken to an oiled baking tray and bake at 355°F for 40 minutes. In the meantime cut off the green beans ends; wash and boil in salted water green beans, then drain and let cool them. Wash and cut into pieces the cherry tomatoes, peel and chop the garlic, let it heat in a pan with 2 tablespoons of oil and then add the tomatoes; cook for a few minutes and then turn off the heat. Immediately add the green beans, mix and keep everything warm.
Clean and cut lengthwise the welsh onion, remove the chicken from the oven, brush it with honey and then add the welsh onion. Bake again for 40 minutes, then serve the chicken with the welsh onion and the green beans with cherry tomatoes.