Everything you need to know about Italian Carbonara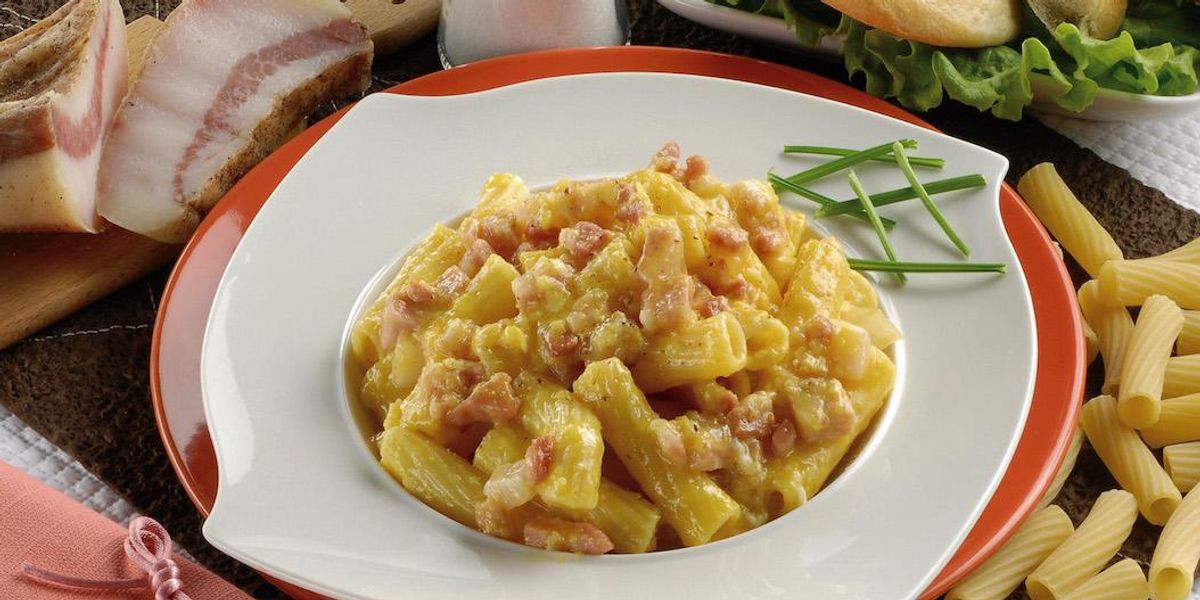 It's one of the most famous pasta's recipes in Italy and no, you don't need cream to cook it
Spaghetti Carbonara, one of the most famous pasta recipes of Roman Cuisine, is made only with 5 simple ingredients: spaghetti seasoned with browned guanciale, black pepper, pecorino Romano, and beaten eggs. In the traditional recipe for spaghetti carbonara, you need no other ingredients so
DO NOT USE garlic, parsley, onion, cream, milk, Parmigiano, pancetta, bacon.
If you read this recipe thoroughly, you will see many Pasta Carbonara variants, even here in Italy. Still, they are…variations of the authentic recipe, which is very simple and fast to make. The only difficulty is to make sure that the eggs do not cook so much to look like scrambled eggs or too little to be raw and cold.
Guanciale or Pancetta?
Pancetta in carbonara pasta should not be used. Guanciale is pure magic, and if you remove its golden fat, carbonara becomes flat and dull. The reason is the intrinsic quality of the ingredients: guanciale has flavor and fat, pancetta is drier.
Guanciale is an Italian cured meat product made with pork jowl or cheeks. Its name comes from guancia, Italian for cheek, sometimes translated with pork cheek lard or jowl bacon. Salted and peppered, it's left to mature for 3 months.
Today we propose the traditional Roman recipe of spaghetti carbonara, where the guanciale is the top ingredient, in fact, the taste, the fat. We could say the juice of the seasoning comes from this little jewel of Italian culinary art.
Many people use pancetta in carbonara pasta, sometimes because it's easier to find it on the market. More often, they use it because guanciale is a lump of rather fat meat, and there is no doubt that it is a hypercaloric ingredient.
Spaghetti carbonara with pancetta is a variation of the traditional recipe.

Pecorino Romano or Parmigiano Reggiano?
Spaghetti carbonara traditional recipe is an Italian recipe whose origins are in Lazio. The recipe wants pecorino romano because it's a cheese born in Lazio, while Parmigiano Reggiano belongs to Emilia Romagna. So you can use Parmigiano Reggiano for sure in your carbonara recipe but be aware that it is a variation of the more classic carbonara pasta.
As with all the dishes of traditional Italian cuisine, there are several variations to the Spaghetti Carbonara authentic recipe. We'll show you some of these variations: what to add and what to remove from the traditional ingredients, and why.
Pasta Carbonara: Origins
Pasta Carbonara is a Roman recipe, but it is surely a recent one since it has been heard of only after the Second World War. Its origin is somewhat controversial, and there are at least three plausible theories.
Pasta dishes seasoned with products of pastoralism and agriculture (such as eggs and pancetta or lard) were common in the Abruzzo mountains. Some displaced people have discovered them and brought them to Rome at the end of the Second World War.
A second hypothesis says that in the Roman taverns, the owners seasoned the pasta with Carbonara Sauce to feed the American soldiers because they knew that they ate eggs and bacon at breakfast. Given the success, the recipe has spread.
The third hypothesis says that Pasta Carbonara was prepared in the Roman taverns all along. Still, only after the Second World War, the recipe became known to the general public because it came into the printed cookbooks.