Coconut milk: rich in properties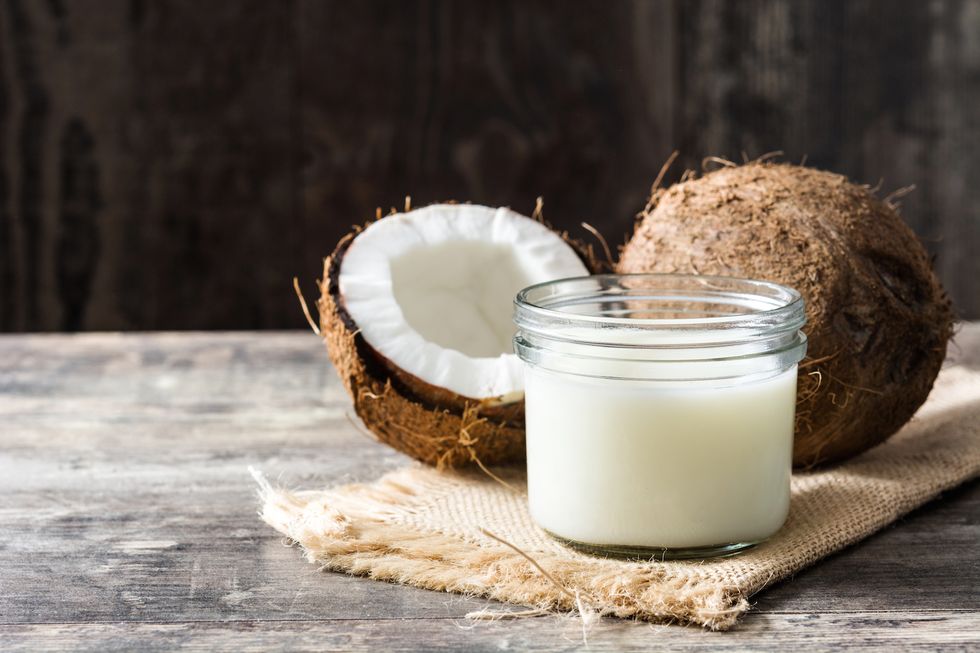 Virtues, ideas and suggestions for using the most popular vegetable milk of the moment
Nutritious, antioxidant, versatile in the kitchen:coconutmilkis one of the vegetable alternatives to cow's milk that is increasingly popular and is also popular among the top-class chefs.
Its success is undoubtedly due to its healthy properties, as well as to the taste, typically sweet and particularly pleasant, which make it a valid ally in the kitchen, for sweet and savory recipes.
Let's start with health. First of all it should be emphasized that coconut milk islactose and gluten free, which is why it is used in vegan cuisine and by those who are intolerant to these substances.
But that's just the beginning. There are many characteristics that justify its rise: the richness of mineral salts such as potassium, phosphorus and magnesium, the presence of vitaminsof the c group to a lesser extent than the b group of lauric acid,a "good" fat that appears tostabilize cholesteroland reduce the risk ofheart disease.Also coconut milk is arefreshingdrink, rich inproteinand is therefore suitable forsports,except for those who follow restrictive diets, because it is quite caloric.
Even chefs now consider it an interesting ingredient, also because it can be used as a milk substitute in all preparations that require it. It is perfect, for example, to make creamysoups and vegetable soups,as a liquid that gives substance tosmoothiesand asbase that can enrich the taste ofvegetables in a pan.
Especially the chefs who offer vegan cuisine appreciate it in a particular way.
As explained by Simone Salvini , specialized in vegetable haute cuisine and teacher of theGhitaAcademy,the school dedicated to professionals who want to train in the field of high veg cuisine. "Coconut milk is very interesting in two ways: its texture and its ability to flavor. It is creamy and for this reason it lends itself wellto pastry preparations, such as Bavarian, panne-cotte, Catalan, because it naturally gives a fat, "buttery" aspect, becoming very elastic. At the same time it is effective forflavoring, especially in combination withspicessuch as cardamom and cinnamon, because it is able to enhance flavors by adding an exotic note ".
Antonia Klugmann, starred chef from the Argine a Vencò, thinks so too, who admitted that she has a real passion for coconut, so much so that she has included an appetizer in her restaurant where coconut is present inseveralvariations raw and in of milkto seasonthe ramolaccio (root similar to radish). An important aspect to preserve its properties and taste is to choose, as the chef points out, "a product not too preserved", basedon coconut pulp and water, where the additional components are reduced to a minimum.
In practice, not all products on the market are the same: as underlined by Eva Pfeffer,marketing manager of an important company that deals with bio. Although today it can be easily found in supermarkets or online, the ideal is to buy coconut milk inorganicshops,where the product is certified.
The alternative, to be sure of its quality, is toprepare it at home: simply grate the coconut pulp and grind it with hot water, modulating the quantity according to the consistency you want to obtain and then filter the liquid obtained.
And if you have any leftovers, you can also use it to createDIY cosmetics.To get an effective and gentle makeup remover, mixone tablespoon of coconut milk and two of olive oil. For a mask for dry and brittle hair, mix two tablespoons of coconut milk, a nut of conditioner, a teaspoon of honey and one of jojoba oil. Coconut milk, so rich in properties, is in fact an effective remedy for hair, body and face.