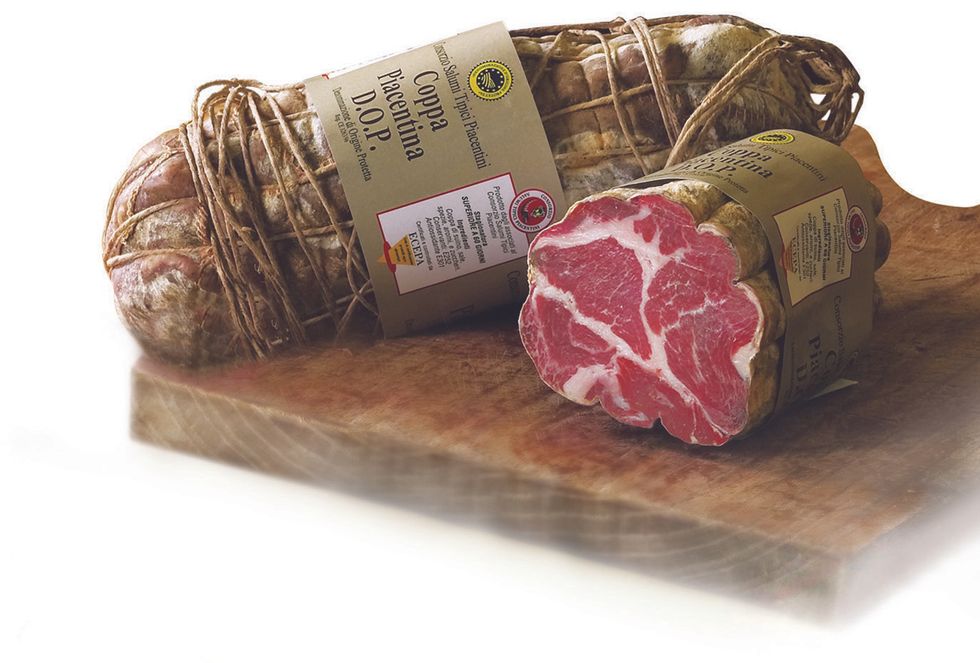 Coppa Piacentina is a cylindrical cured meat weighing more than 1.5 kg. It is obtained from the neck muscles of pigs (two coppa are obtained from each pig) which come from two Italian regions (Emilia Romagna and Lombardy); the production area, on the other hand, according to the PDO specification is the territory of the province of Piacenza.
When cut, the slices of Piacenza coppa are of a beautiful ruby red color, interspersed with whitish-red fat. It is precisely this, the so-called "marbling", which gives the Piacenza coppa the softness that distinguishes it, and it is here that the aromas of the spices (pepper, cloves, cinnamon) used in salting, the first phase of processing, are concentrated.
When tasted, the coppa slices have a sweet and delicate taste , slightly savory; the consistency is melting, thanks to the right seasoning of at least 6 months. Each piece, at the end of the processing, is numbered with progressive numbers that make it possible to trace it. Coppa Piacentina should be tasted thinly , accompanied with homemade bread.
If served as an appetizer, it should be paired with a young and sparkling white wine.It is mainly sold whole, but also in slices or sliced in vacuum packs.