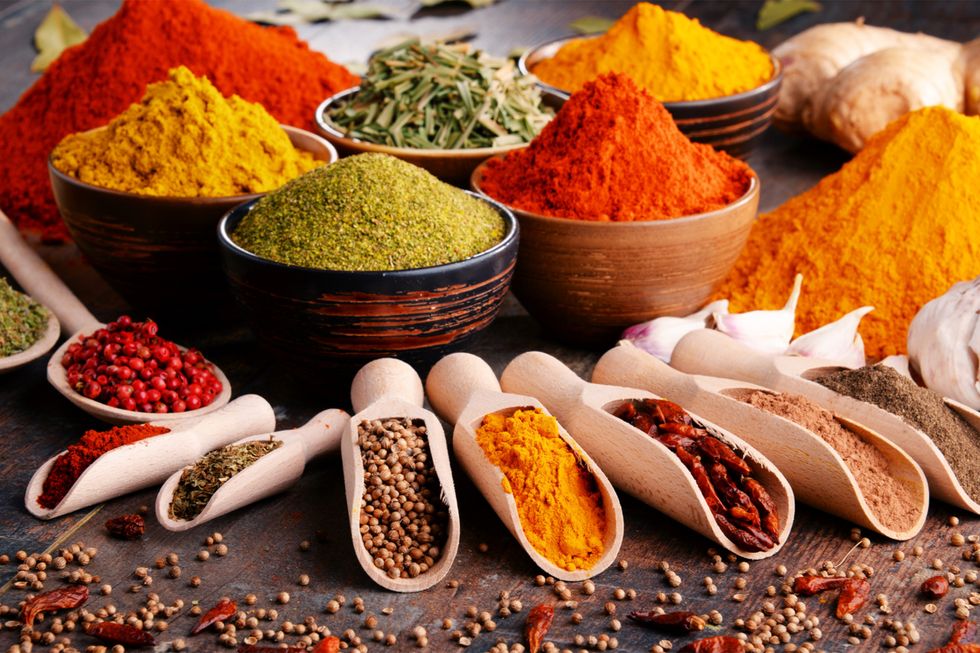 Here are the spices to know if we want to keep the line at bay. From chilli to turmeric, from cumin to mustard ... here are the friendly ingredients when we are on a diet
Not yet disposed of the pounds taken during the Christmas holidays, we are ready to accumulate calories and dietary vices with Carnival. But then the remorse begins, because it is not always easy to get rid of extra pounds and assimilated fats.
So why not resort to some tricks, for example accompanying a healthy and low-calorie diet with intelligent condiments, such as spices, which can be a useful complement to eat well and keep fit?
Let's discuss with Dr. Raffaella Melani, nutritionist biologist, which are the most strategic ones to carry out the good intentions for the new year!
The queen of fat-burning spices: chilli.
First of all there is the chili. In fact, it contains capsaicin, a chemical substance responsible for the characteristic burning, with beneficial effects for weight management. Melani says "A 2012 scientific study on the consumption of chillies collected data showing the qualities of chillies in weight management, resulting from increased heat production (thermogenesis) and increased fat oxidation. In addition, in a more recent study, it was seen how a daily consumption of capsaicin can contribute to weight loss by reducing energy intake and by regulating satiety ".
On the market, there is a good assortment of spices containing capsaicin: there are common chillies, cayenne pepper, jalapenos, habanero, sweet paprika and tabasco. All of these hot spices are easily accessible and keep for long periods of time.
Not just spicy: Turmeric counteracts abdominal fat and reduces cholesterol
Another very valuable spice is turmeric.
Used as an anti-inflammatory agent and believed to be effective against pain in gastro-intestinal disorders and menstrual problems, it owes its qualities to curcumin. Clarifies the Doctor: "Curcumin is the active ingredient of turmeric and some scientific research suggests that this molecule can regulate the metabolism of lipids and that it is also useful for eliminating abdominal fat. It also helps to reduce cholesterol and triglyceride levels".
Cinnamon: to increase metabolism and reduce blood sugar
Intense flavor, rich in antioxidants, vitamins and minerals: cinnamon is a real passepartout. This tasty spice can be used in both sweet and savory dishes and also boasts the ability to boost metabolism. This spice increases insulin sensitivity by lowering blood sugar - both key components for weight loss and especially helpful in managing diabetes.
Mustard: to flavor dishes
Tasty, perfect for flavoring meat and also dietetic.
Mustard doesn't just add flavor to dishes! mustard seeds also increase your metabolic rate by 25% which means that adding less than a teaspoon of mustard to your meal can result in the burning of 45 extra calories per hour. Stresses Melani "Research published last year considers it a useful natural reagent for the treatment of obesity".
Cumin, to reduce fat mass and inches around the waist
Studies show that just 1 teaspoon of this spice per day can increase weight loss results (helping you lose 3x more body fat). "In addition, this spice helps in the management of cholesterol by reducing the" bad "and the risk of coronary heart problems. Cumin is able to balance blood sugar levels by lowering blood sugar on a par with antidiabetic drugs", explains the nutritionist. From an experimental study on overweight women there is also a decrease in the amount of fat mass, reducing the cm of the waist.
The diet as a whole is fundamental
In conclusion, however, it should be emphasized that no spice can be decisive for losing weight if it is not accompanied by a correct diet. "The results are obtained when we make conscious and lasting food choices over time or we rely on the advice of a professional who directs us towards balanced and personalized solutions to live better and stay fit".