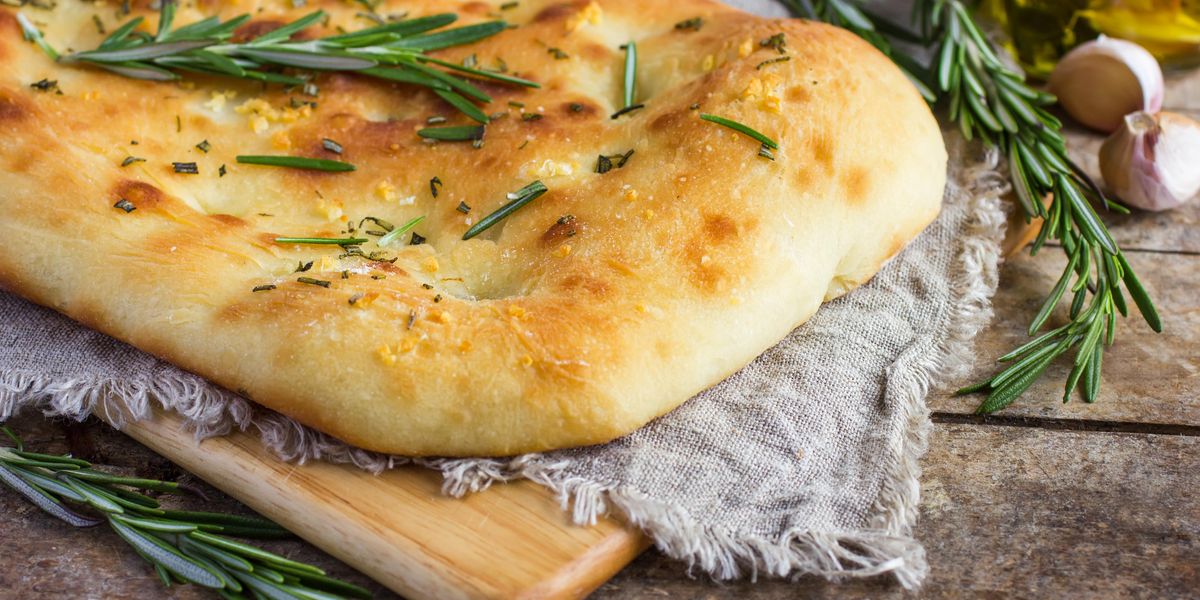 Freshly made focaccia is delicious and quite easy to prepare at home. Like pizza, focaccia dough is leavened by yeast. It's similar to bread dough but usually rises only once before being placed in the pan with its toppings. Whether it's fresh rosemary sprigs, cherry tomatoes or sautéed onions, you'll love the result. This recipe uses a food processor but you can of course knead the dough by hand.
Measure all the ingredients before you begin. In a small bowl add the yeast to the warm water. Stir in the sugar and let stand until the yeast has dissolved, 5-10 minutes.
Fit the food processor with the metal blades. Put three-quarters of the flour and the salt into the food processor's bowl. Turn it on and pour in the yeast mixture through the opening at the top. Continue processing until the dough forms one or two balls. Turn the machine off and touch the dough. If it still feels sticky add a little more flour and process again until it's been incorporated.
Remove the dough from the processor. Knead it for about 2-3 minutes on a surface dusted with the remaining flour. Form it into a ball.
Lightly oil a large mixing bowl. Put the dough in the bowl. Cover the top of the bowl with a dampened dish towel to stop any draughts and place it in a warm place until the dough has doubled in volume, about 40-50 minutes or more, depending on the type of yeast used. (If you don't have a warm enough place, turn the oven on to medium heat for 10 minutes before you knead the dough. Turn it off. Place the bowl with the dough in it in the turned-off oven with the door closed and let it rise there). To test whether the dough has risen enough, poke two fingers into the dough. If the indentations remain, the dough is ready.
Punch the dough down with your fist to release the air. Knead for 3-4 minutes. Brush a large shallow baking pan with 1 tablespoon of the oil. Place the dough in the pan and, using your fingers, press it into an even layer 1in/ 2 cm thick. Use two pans if necessary. Scatter with the rosemary leaves or dot with halved cherry tomatoes. Cover the dough with a cloth and leave it to rise in a warm place for 30 minutes.
Preheat the oven to 400°F/200°C/GasMark6.
​Just before baking, use your fingers to press rows of light indentations into the surface of the focaccia. Brush with 2 tablespoons of oil and sprinkle lightly with coarse salt. Bake for about 25 minutes, or until just golden. Cut into squares or wedges and serve as an accompaniment to a meal, or alone. Focaccia can be eaten warm or at room temperature. You can also slice in half and use it for sandwiches.