Lavender: an elixir of wellbeing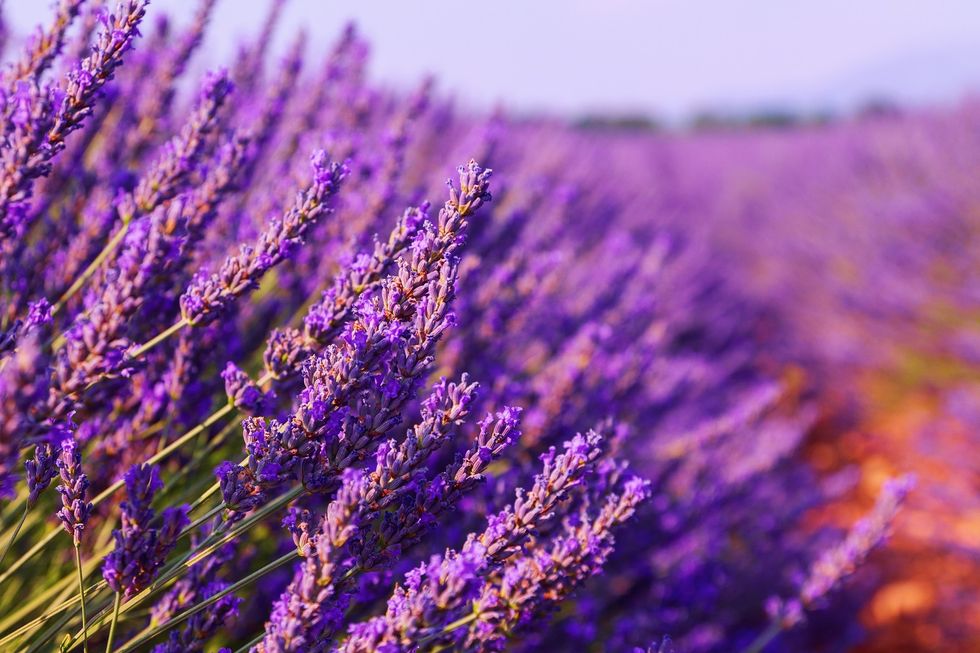 Properties, advice on use and gastronomic uses of lavender, a plant with extraordinary virtues. And a recipe by chef Luca Gagliardi.
A single plant with numerous healing properties for physical and psychophysicalwell-being : it is lavender , or Lavandula officinalis , the evergreen shrub of the Lamiaceae family with delicate violet flowers, which in these summer months (July and August) sees its harvest time.
The flowers and / or leaves, in fact, are used for therapeutic purposes, generally in the form of essential oil, or according to the needs of herbal tea, mother tincture, ointments or ointments.
The most interesting aspects on health are linked to the presence of two substances: linalyl acetate , which gives lavender its particular fragrance capable of carrying out a relaxing action, and linaiol, with a remarkable antimicrobial, anti-inflammatory and antiseptic power .
For this reason it is frequently used to cope with colds, even in children, such as bronchitis, cough, sinusitis, phlegm, through fumigations (also in association with bicarbonate) or local frictions .
Its relaxing ability at the same time makes it a valuable aid to combat anxiety, nervousness and insomnia . A few drops of lavender essence, massaged on the temples, is useful in case of migraines , tension and stress .
But lavender also boasts beneficial effects on the skin. Thanks to its healing properties it is particularly useful in case of wounds, cuts, insect bites and skin inflammations in general.
A few drops of essential oil, diluted with a little olive oil and rubbed into the skin, can soothe irritation and give relief in case of mosquito bites, jellyfish and burns.
What is surprising today is that this precious and ancient plant is increasingly taken into consideration (as well as for its healthy properties), thanks to its characteristic fragrance and its flavoring capacity , as a culinary complement to enhance foods and dishes.
Luca Gagliardi , chef of the historic La Rampina restaurant in San Giuliano Milanese and pupil of the three-starred Westermann as well as of Gualtiero Marchesi at the time of Albereta explains it well: " The idea of experimenting lavender in the kitchen was born in my memories. As a child I spent the summers in the family villa in the countryside in the Marche region and near my house there was an immense expanse of lavender. Using lavender I wanted to recreate the scents and sensations of the countryside ".
"Experimenting dishes and combinations - continues the Chef -" I discovered that it can be very interesting from a gastronomic point of view to enhance tastes and flavors , give a fresh and particular scent. It can be used in the form of leaves (if you are looking for a more delicate taste) or flowers (fresh or dried) in relation to the dishes you want to associate with. The leaves are suitable, for example, to flavor meat (along with other spices such as marjoram and rosemary), the flowers have a stronger scent, which can be dampened by leaving them to infuse in warm milk. I often combine them with vegetables (soufflé) , desserts (for example panne cotte) , risotto. The result is pleasant, tantalizing, light ".
Elisa Nata
July 2017
Nettle soufflé with purple potato and lavender cream
by Luca Gagliardi
Ingredients for 4 people:
200 gr of fresh liquid cream
200 gr of fresh milk
50 gr of boiled and blended nettles
3 whole eggs
Salt and Pepper To Taste
20 gr of Grana cheese
100 gr of boiled purple potatoes
Few natural untreated lavender flowers (left to dry)
Prepare the soufflé. Mix the whole eggs, cream, milk, salt, a little white pepper and parmesan together with the nettle cream (obtained from previously blended nettle) in a bowl, butter the 120ml molds filling them with the mixture, then cook in a water bath at 160 ° for about 20 minutes.
For the potato cream, peel the purple potatoes and boil them in salted water, once cooked, blend with a little milk and a pinch of salt.
For the crumble mix 30 g of breadcrumbs with 10 g of butter and 10 g of flour and 2 g of dried lavender. Roll out on a baking sheet and cook at 210 ° for about 4 minutes.
Serve by placing the hot purple potato cream in a mirror bowl, placing the nettle soufflé in the center, sprinkling it with the bread and lavender crumble. Serve hot.