Licorice, a remedy with ancient roots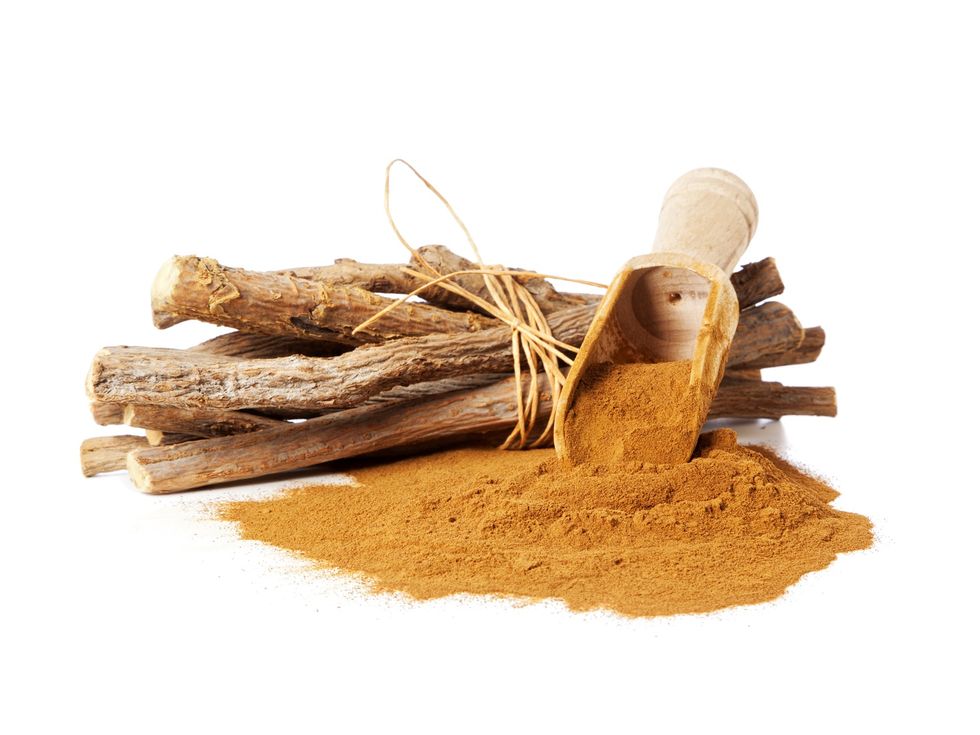 Properties, uses and contraindications of licorice, the most delicious root, loved by young and old
Intense taste, between sweet and bitter, which conquers even children and undisputed properties that make it interesting as a natural remedy for the most disparate pathologies, since ancient times: it is Glycyrrhiza glabra, more commonly known as licorice, a plant spontaneous that grows in southern Europe, used for over 5000 years by numerous civilizations; from the Egyptians to the Shiites, from the Greeks to the Romans, as well as from Chinese medicine up to the present day.
Appreciated for its innumerable virtues even by Napoleon and Hippocrates, who are said to have used it respectively to counteract stomach pains before battles and to calm coughs, thanks to its beneficial action on the stomach and respiratory system. And with good reason, because its strengths are remarkable: from the digestive power to the anti-inflammatory properties , from the thirst-quenching capacity to the antiviral effects .
"The most important advantages, however, concern the gastric system" - explain Carla Lertola , dietician and Valentina Bolli , dietician - "Its most relevant active ingredient from a pharmacological point of view is in fact glycyrizin , a substance capable of creating a gastric protective film and effectively fight ulcers, gastritis, esophagitis. With the roots, for this purpose, you can prepare excellent herbal teas , in the form of decoctions or infusions ".
However, it is essential to pay attention to contraindications. "Licorice, consumed daily even in small quantities, can increase blood pressure. Therefore, people with hypertension must limit their consumption (a study specifies that doses higher than 50 g for 2/4 weeks in hypertensive people induces a significant increase in risk) and also diabetics , for the sugar intake, which is not negligible. To be strictly avoided for those who take antihypertensive drugs (ace inhibitors and diuretics) because it can create interactions.
Today licorice is also very popular in the kitchen, as Dr. Lertola and Dr. Bolli recall, thanks "to the sweetening power 50 times higher than that of sugar " and to the flavoring capacity capable of enriching sweet and savory recipes and forming the basis of liqueurs / digestives.
Danila Forciniti, a young promise from Calabria, nicknamed "Chef of Liquorice" , a guest this year at Casa Sanremo and teacher at the Cordon Bleu Academy in Florence, tells it well , who for thirteen years has been experimenting with savory dishes based on this particular ingredient, produced by excellence of his land.
"The freshness of licorice and its sweet / bitter taste lend themselves very well to dishes with a delicate taste , such as white fish (sea bass, grouper) , crustaceans , but also white meats and vegetables (especially cauliflower, beetroot, asparagus, artichokes). It can be used in two forms: root and powder (fine or grains), to be chosen according to the preparations. I introduce it in many of my recipes; ranging from shrimp and buffalo tartare with soy sprouts and liquorice grains to asparagus and saffron cream with peeled root, from cauliflower flans with licorice to desserts, such as shortcrust pastry and Bavarian cream, or in association, for example, with white chocolate and coffee ".
For a perfect result, the chef emphasizes, balance is always needed: "It is important not to overdo the quantity and pay attention to the quality." Calabrian licorice, for example, is the only one to be DOP , or protected designation of origin and boasts well precise, such as a particularly accentuated sweet note and the presence of liquiritigenin, isoliquiritigenin and licochalcone A, useful for psycho-physical well-being.
Licorice basket with melon pearls
Ingredients:
140 gr Butter
140 gr icing sugar
1 egg
1 yolk
8 teaspoons Calabrian PDO Licorice Powder
320 gr flour 00
50 gr Rice Flour
200ml milk
80g sugar
1 pinch of star anise powder
250ml cream of milk
To decorate: melon pearls, Calabrian PDO licorice powder,
powdered sugar
Prepare the pastry by making a dough with the butter, icing sugar, egg, yolk, 5 teaspoons of licorice powder, rice flour and 300 gr. than 00, wrapping everything in plastic wrap and letting it rest in the fridge for at least half an hour.
Roll the pastry up to half a centimeter thick, wrap it around the rolling pin and then place it in a buttered mold of 26cm in diameter. Level the edges and pierce the base, covering with parchment paper and placing the dried legumes inside and then cook in the oven at 175 ° for 20 minutes.
Then remove the paper with the legumes and bake for another 10 minutes in order to obtain a well-browned pastry basket. Let it cool down.
Then prepare the licorice cream by mixing the milk with the sugar in a saucepan, 20 gr. 00 flour, 3 teaspoons of licorice powder and star anise, putting the pot on the stove until it thickens with the help of a whisk. Remove from the heat and let it cool. In the meantime, whip the milk cream and add it to the licorice cream with movements from the bottom up.
Composition: fill the licorice shortcrust pastry basket with the cream, decorate with melon pearls and sprinkle with icing sugar and licorice powder. Store in the fridge and then serve.