Linguine with Clam and Tomato Sauce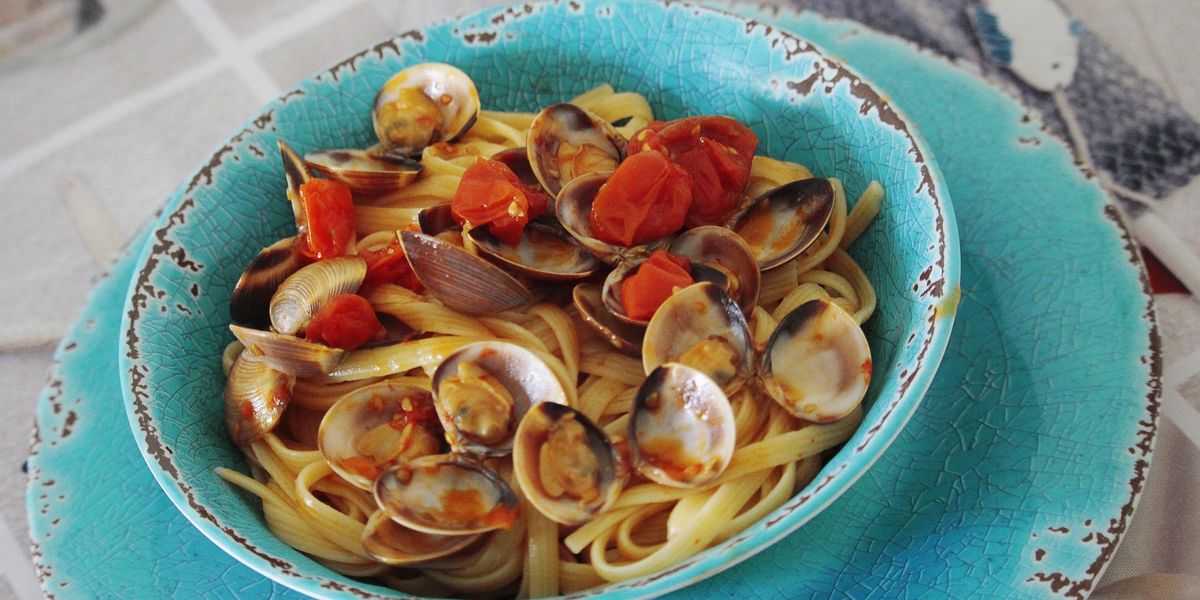 This clam sauce features fresh tomatoes for added sweetness. It's best with small clams like littlenecks, or what the Italians call vongole veraci. If you can't find fresh clams, use bottled.
Scrub and rinse the clams well under cold running water. Place them in a large saucepan with a cupful of water and heat until the clams begin to open. Lift each clam out as soon as it opens and scoop it from its shell using a small spoon. Place in a bowl. If the clams are large, chop them into 2 or 3 pieces. Reserve any liquids from the shells in a separate bowl. When all the clams have opened (discard any that don't open) pour the cooking liquids into the juices from the clams, and strain them through a piece of paper towel or muslin to remove any sand. (If you are using bottled clams, use the liquid from the jar).
Bring a large pot of water to the boil for the pasta.
Pour the olive oil into a medium saucepan with the garlic. Cook over moderate heat until the garlic is golden. Remove and discard the garlic. Add the chopped tomatoes to the oil with the clam liquids. Mix well and cook over low to moderate heat until the sauce begins to dry out and thicken slightly.
Add salt and the pasta to the boiling water. Cook according to the instructions on the package.
A couple of minutes before the pasta is ready to be drained, stir the parsley and the clams into the tomato sauce and raise the heat. Add some freshly ground black pepper and taste for seasoning.
Just before you drain the pasta, remove a mugful of the pasta cooking water. Drain the pasta and turn it into a serving bowl. Pour over the hot sauce and mix well before serving. If the sauce is too dry, add a little of the pasta cooking water. Serve immediately.