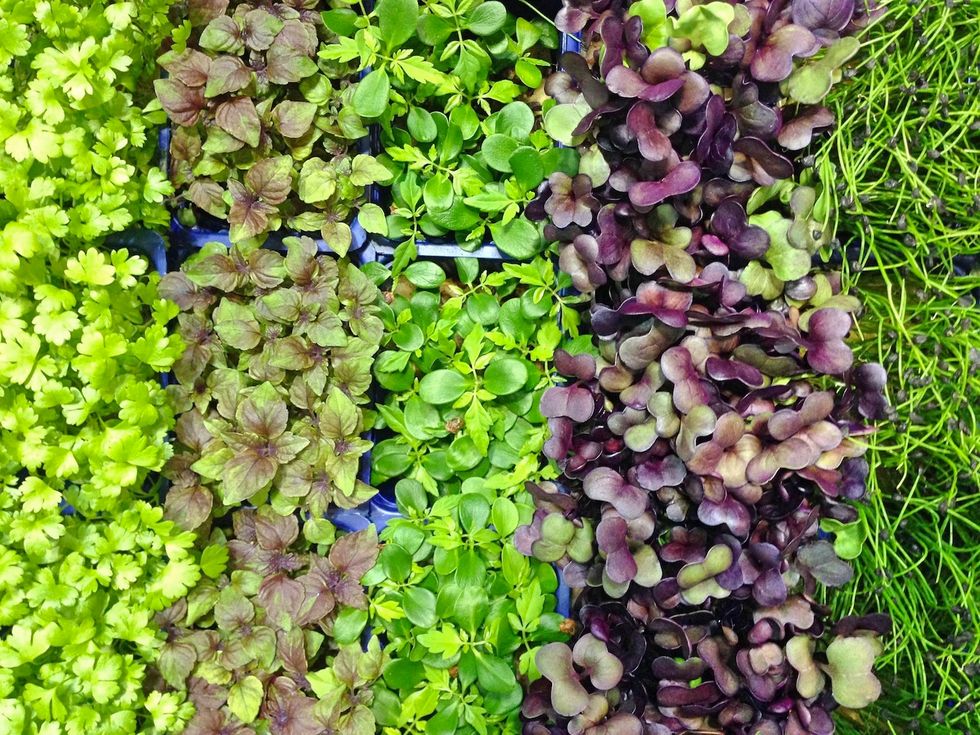 They are nothing more than the young plants harvested before they reach full development and even if small in size they are full of nutrients, even tens of times higher than common vegetables. In the supermarket it is increasingly common to find microgreens, and some of them can also be easily grown at home.
Young plants harvested before they reach full development are chefs' favorite superfoods. And now they also land at the super. The word microgreen probably doesn't mean anything to you. Yet you have almost certainly already put these products in your shopping cart because they are among the "best sellers". Did you buy miniature mustard or daikon mignon, young red cabbage or pink radish little more than sprouted and sold with the stand it grew on? Then you too are part of the great club of microgreen consumers, considered among the most interesting foods of the present and of the future. Let's try to understand why.
Micro in size, macro in nutrition
Microgreen is the technical term used to designate the immature plants of various species of vegetables, herbs, aromatic herbs and wild plants (from basil to broccoli, from cauliflower to kale), collected in an intermediate phase between the sprout and the adult phase, the so-called seedling. Why not wait for them to mature? Because in this phase the immature vegetables have the highest concentrations of nutrients so that they are considered real superfoods, characterized by a high nutritional value. According to a study conducted by the United States Department of Agriculture and the University of Maryland they have a content of vitamins (such as C, E and K) and carotenoids (beta-carotene, lutein and zeaxanthin) even dozens of times higher than common vegetables. Furthermore, micro-vegetables can provide a good supply of minerals, especially potassium and calcium. Another study, published in the "Journal of Agriculture and Food Chemistry", at the end of some experiments, found that the regular consumption of red cabbage sprouts reduces cholesterol levels and guarantees a high intake of numerous beneficial substances, such as glucosinates and polyphenols. Even in Italy, microgreens have attracted the attention of scholars. The Ministry of Agriculture has developed an ad hoc project, aimed at studying them not only in a healthy-functional key but also as enhancers of horticultural biodiversity, local varieties and edible spontaneous plants
From greenhouses to small home gardens
Not all microgreens are created equal. And the differences begin already during cultivation. There are those obtained from special seeds and using soilless cultivation systems (for example on coconut fiber) in protected environments, such as greenhouses, where you can control the parameters that determine their growth, such as light, humidity and temperature. In this way, all the treatments for the defense against parasites are reduced to a minimum, or not made right, and no fertilizers are used. And then there are the micro-greens grown in a more traditional way and simply harvested in advance of the canonical ripening times, as soon as they develop the first leaves, i.e. only 10-20 days after sowing. Micro-vegetables have the advantage of being able to be marketed even intact, together with the entire growing substrate: it is then those who buy and consume them who cut them, even just a few minutes before use. This is an important element because it guarantees a longer duration of the microgreens and ensures a high quality both in terms of freshness and nutritional value. The freshly harvested micro-screens are washed, packaged in small plastic containers and immediately refrigerated and kept at low temperatures until consumption. Being live seedlings, they keep in the refrigerator for up to 10-15 days.
Growing assortment in the supermarket
In the world they are considered one of the most promising emerging markets in the entire fruit and vegetable sector. And also in Italy there are companies that have believed in the potential of microgreens. Those that can be purchased at the supermarket or in natural food shops, packaged in plastic packs that protect them, are definitely "made in Italy". They come from Puglia and Romagna, from Brianza and Veneto, where they are grown in over twenty varieties: red cabbage and watercress, mustard and rocket, radish and turnip greens, amaranth and lettuce, rocket and beetroot. Given the simplicity and speed with which they grow, microgreens are also perfect for a balcony, a small vegetable garden, an attic or a communal garden where you can plant seeds of typical local species. And for this, there are vertical developers on the market that resemble the refrigerators you see in bars and restaurants
Flavors to experiment
Easy to grow, rich in nutrients, free from chemical treatments, microgreens present themselves as very virtuous foods. But are they also good when they are on the plate? Surely they are worth trying because they have a very particular flavor, which makes them original and different from the usual vegetables, as the InnoBiOrt research project concluded, with which the University of Bari has experimented the results of the use of microgreens as basic ingredients for sweet and savory dishes with marked healthy characteristics and the results of which have been published in the "Journal of Culinary Science & Technology". Despite the small size, in fact, the microgreens have an intense flavor (sometimes pleasantly spicy), bright colors and a crunchy texture that makes them perfect both to be consumed alone and to be added to mixed salads, soups and stuffed sandwiches but also to be stir-fried. or in the wok, as well as to use to decorate dishes where they make a great impression thanks to their small size and intense colors. Any advice for use? The rocket microgreen, with a delicate but persistent flavor, is ideal together with cheeses of greater character and potato-based dishes; that of mustard livens up with a spicy and spicy aroma of sauces, salads and grilled meats, while that of borage goes well with fish and shellfish. The pungent watercress gives an intense touch to salads while the red cabbage goes well with fish dishes and is perfect in the filling of sandwiches. For white meats the coriander microgreen is better, reminiscent of ginger and is the most suitable for oriental cuisine, while for the barbecue, both meat and vegetable, daikon is ideal.