Mustard: concentrate of well-being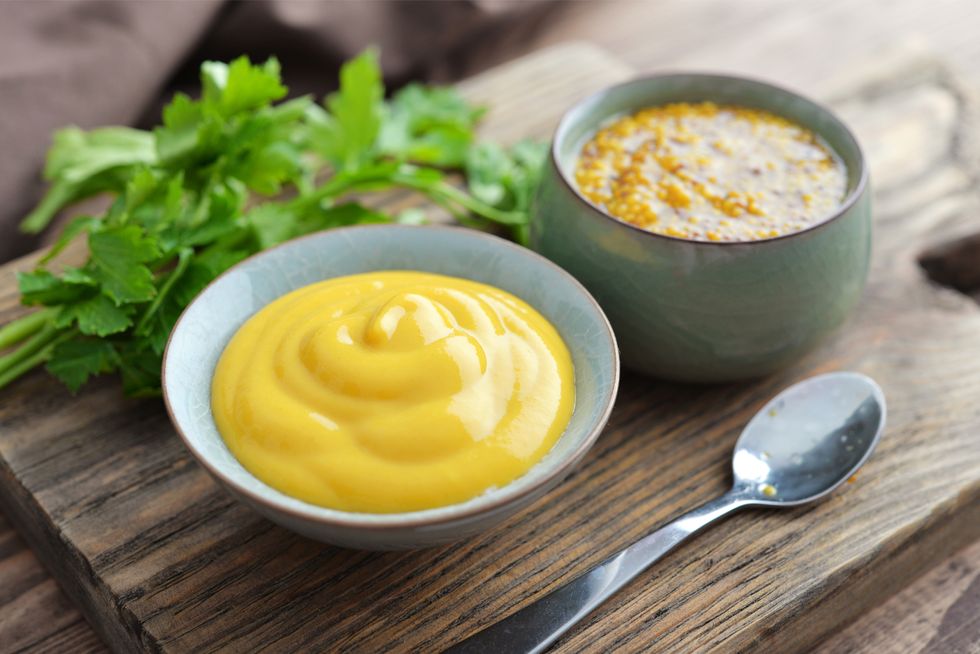 Properties, nutritional values and gastronomic indications of mustard, the millenary plant friend of the diet
Intense flavor, almost spicy, capable of enriching less savory foods and Guinness World Records calories that make it interesting in the eyes of the most attentive to the line: it is mustard , a perennial plant belonging to the brassicaceae family - known in particular in its two species , or white mustard ( Sinapis alba ) and black mustard (B rassica nigra ) - from whose seeds , ground and pulverized, (to which vinegar, oil and sugar are added) we obtain the sauce that we all know.
Appreciated since ancient times, by the Egyptians who praised its digestive powers to the Greeks and finally the Romans to whom the first "recipe" of the famous sauce seems to date back, arriving to the present day when it is used for many gastronomic preparations , even by the masters of haute cuisine.
Starting from the beneficial properties, it is the seeds, in particular, that possess important qualities for health . This is confirmed by Carla Lertola, dietician doctor and Valentina Bolli , dietician: "They are rich in antioxidant substances, vitamins and minerals, such as potassium, iron, as well as a large amount of fiber . They are very versatile in the kitchen and thanks to their taste they are suitable for example. for breading meat , using less salt, without sacrificing flavor. They are quite caloric compared to mustard sauce (about 470 calories per 100 gr.) therefore less suitable for diets, if not in small quantities. " Due to their abundance of vitamins and antioxidants, they are sometimes used together with honey to combat coughs and diseases of the respiratory system .
Lertola and Bolli underline: " The mustard sauce, on the other hand, is decidedly low - calorie (95 calories per 100 grams against the 655 for example of mayonnaise) and for this reason, thanks to its gastronomic qualities, it is very useful for diversifying tastes, while maintaining the pleasure of eating in the light regimes .
Its gastronomic qualities are well explained by Enrico Bartolini , multi-starred chef, patron of Mudec in Milan, who uses it accompanied with tuna belly in the menu of his restaurant:
"I love its particularly appetizing flavor, which stimulates salivation and its emulsifying capacity that is functional to many preparations, like all dishes where an oil-based emulsion is usually used. It is extraordinary for example in meat tartare , very pleasant if delicate with fatty fish . It is also pleasant to perfect white and red meat marinades . I love it when combined with the roots, especially when loving . If brushed on meat , such as chicken, before cooking, together with other flavorings, it tastes very well. A simple recipe ? Spread the chicken wing (at least three each) with mustard along with rosemary, honey and salt and let it rest for at least two hours. Place them with a little oil in an oven tray on top of a bed of celery, spring onion, yellow apple, fresh ginger and lemon zest. Bake at 180 degrees for 25 minutes, raise the oven to 210 degrees for another 10 minutes. Remove the wings, blend the cooking liquid and the cooked vegetables and serve accompanied with ripe tomatoes cut like a carpaccio, seasoned with fresh oregano and salt ".
To start, as the chef suggests, it is better to choose the sauce in grains or fluid , much easier than seeds, which if dry require attention and hydration. To determine which type or brand to use, tasting remains the most precise and engaging meter because it stimulates interest, curiosity and knowledge.