Pasta and Dried Bean Soup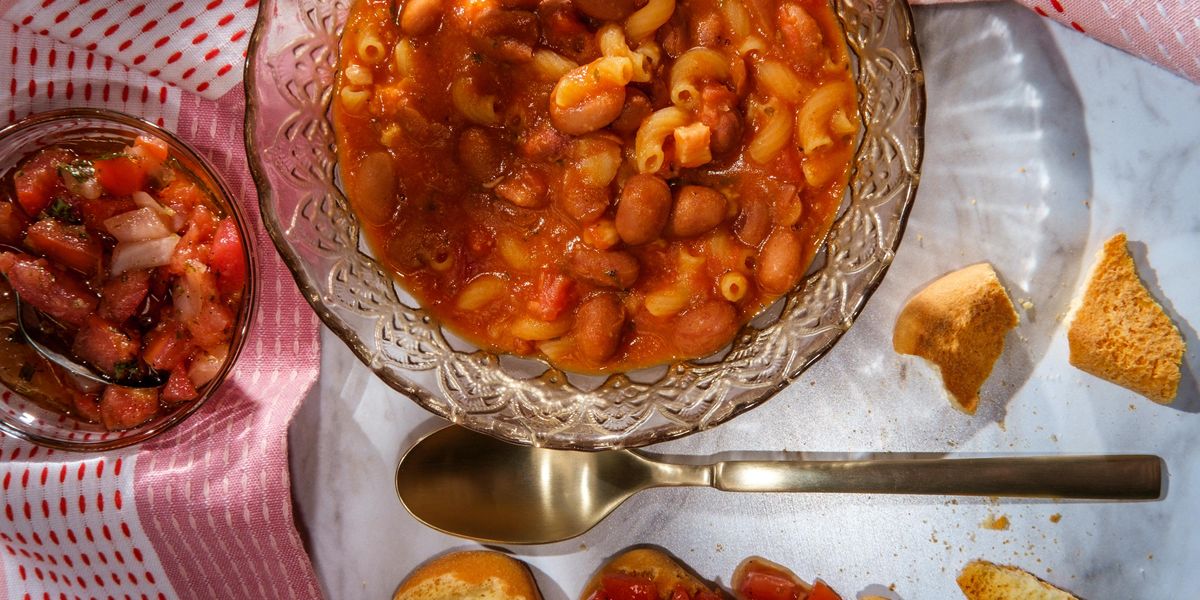 This thick and warming rustic soup is popular in many regions of Italy. (In parts of the US it's known as pasta fasul or fazool.) It's versatile and may be made with or without tomatoes, and with a variety of short pasta shapes and different herbs. You'll get the best results if you take the time to make it from dried beans (or fresh, when they are in season in late summer). If you're in a pinch, you can improvise using canned beans for a faster dish. Serve it hot or at room temperature.
Rinse the beans and soak them for 6-8 hours or overnight in a large bowl of cold water. Rinse well and drain.
Place the beans in a large saucepan and cover with fresh water. Bring them to the boil and cook for 10 minutes. Rinse and drain again. This will help to make them more digestible.
Return the beans to the pan. Add enough fresh water to cover them by about 1 in/ 2 cm. Stir in the coarsely chopped tomatoes with their juice, bay leaves, optional rosemary, garlic, oil and black pepper. Simmer for 1 1/2-2 hours, or until the beans are tender. This could vary a lot: if the beans are older they may take longer to cook, so be sure to keep tasting them to see if they are soft enough. Add more water as necessary to keep them submerged.
Discard the bay leaves. Pass about half of the bean mixture through a food mill or purée in a food processor with some of the liquid. Stir the purée into the remaining beans in the pan. Just before you are ready to eat, pour 1 ½ pints/3 cups/ 750ml of boiling water into the beans, stir well and bring the soup to the boil.
Add the pasta and the salt. Stir well, and cook until the pasta is al dente, making sure the mixture does not stick to the bottom of the pan. Stir in the parsley. Allow the soup to stand for at least 5 minutes before serving to reduce the heat a bit and improve the flavors. Serve with grated Parmesan cheese passed separately. In Italy, a dash of extra virgin olive oil is also poured onto each serving.