Pastry braid with green olive tapenade and pumpkin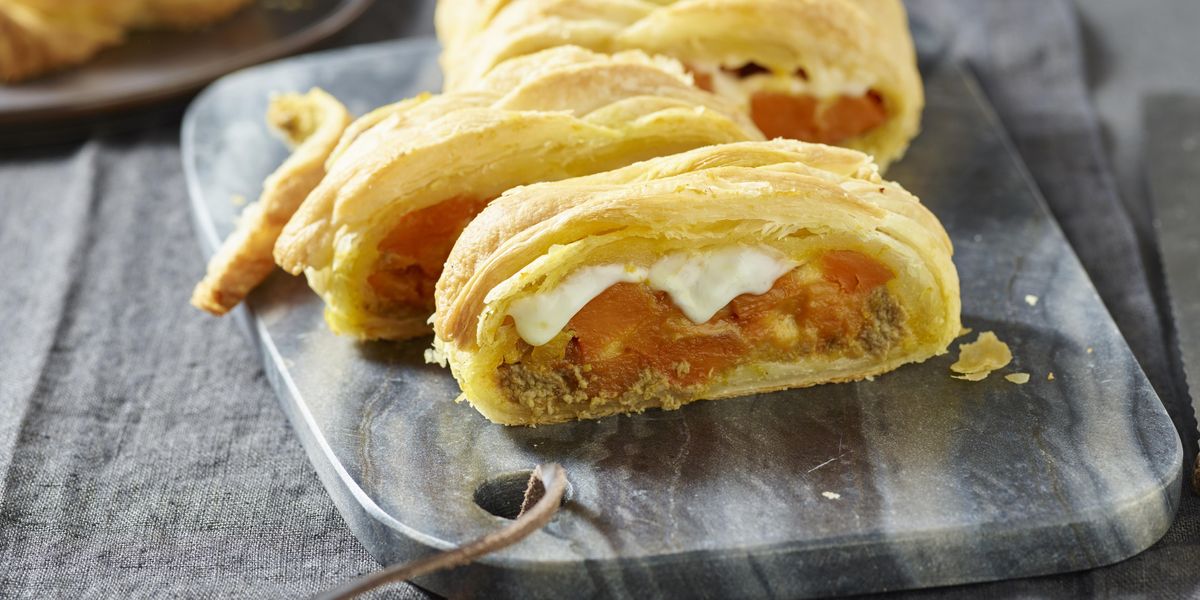 A delicious appetizer, a tasty side, or simply a second dish different from the usual: the pastry braid with green olive tapenade and pumpkin recipe
Cook the pumpkin
Start by cleaning the pumpkin, remove the seeds, and cut the flesh into little cubes. Peel the clove of garlic, fry it in a pan with 4 tablespoons of oil; then remove the garlic from the pan, add the pumpkin, the sprigs of thyme, season with salt, and add ¼ cup of water; cover the pan and cook for 15 minutes. Then remove the thyme, season with pepper, and let cool.
Stuff the pastry
Roll the pastry dough on baking paper, spread the tapenade on it but keep the edges empty: don't cover 3 inches from each long edge, and 1.5 inches from each short edge. On the tapenade spread the grated lemon zest, the pumpkin, and the soft cheese. Cut the 3 inches edges making oblique lines, keeping 1 inch between each stripe.
Braid and bake
Fold the short empty edges on the stuffing. Then start to fold the oblique stripes to the center, alternating right and left, in order to create a braid that evenly covers the stuffing. Place the braid on a baking tray, and bake it at 360°F for 35 minutes. Then let the braid rest for 5 minutes before serving.