Piadina slices with creamy eggs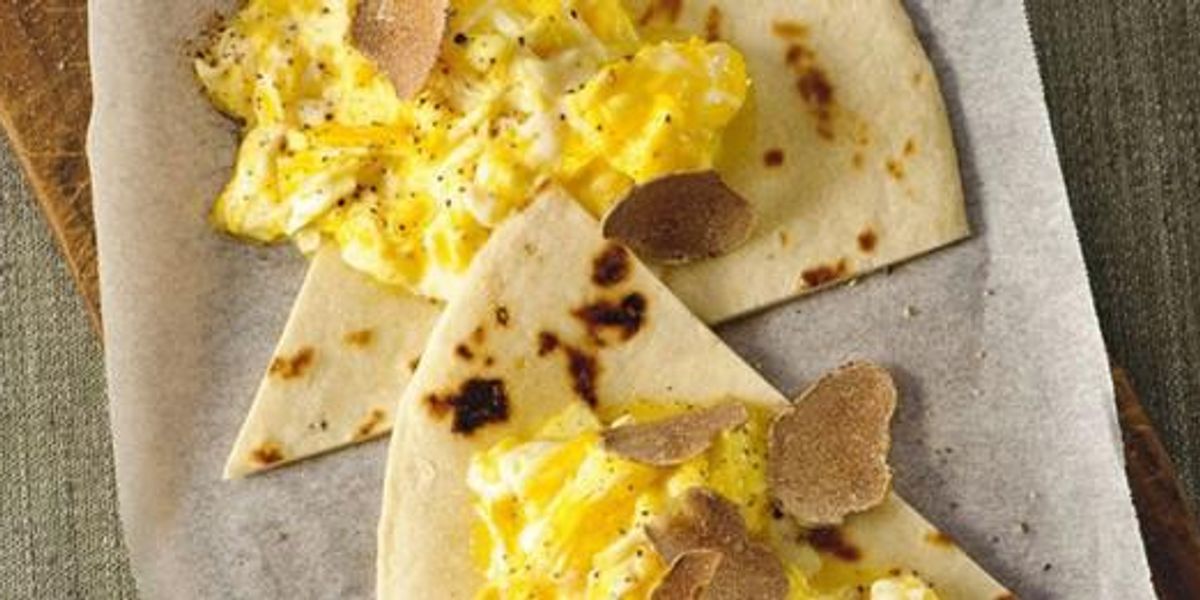 A delicious appetizer enriched by the unique aroma of the truffle.
The piadina is a typical Italian flatbread, similar to a tortilla, but tastier and crumblier. Usually, when is cooked, the Italians fill and spread an half, and fold the other half over. Generally is filled with mozzarella, cold cuts, and some vegetables, but it can be filled with any other ingredient, as we suggest in this recipe: piadina with eggs and truffle.
Warm the piadinas
Heat a non-stick pan, large enough to contain a piadina. On low heat, warm the piadinas, one at a time. Keep the piadinas warm.
Beat the eggs
Beat the eggs in a bowl, add the cream, the grated parmesan, a pinch of salt and pepper, and mix. Melt the butter in a non-stick pan. Pour the mix in the pan with the butter and mix on low heat, continuing to stir with a wooden spoon, until the eggs slightly thicken, but must remain creamy.
Complete the dish
Divide the piadinas in slices and place on them the scrambled eggs. Complete the dish with a pinch of grated truffle, cut at the moment in thin strips. Serve immediately the piadinas with creamy eggs.