Polenta pizza with fennel mushrooms and sausage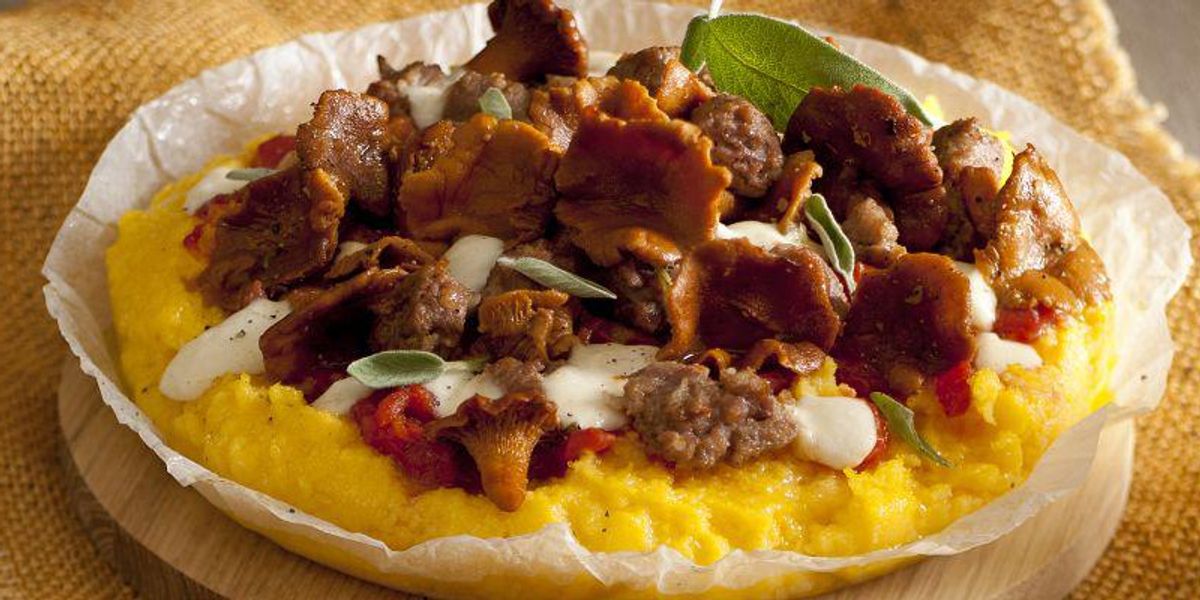 A pizza made exclusively of corn flour: polenta pizza with fennel and sausage. Try it (and enjoy it) thanks to this easy recipe!
Bring to a boil 1.2 liters of water in a saucepan (or, if possible, in a copper pot). Salt it and pour in the flour, stirring it quickly with a whisk or a wooden spoon so that it does not form lumps. Cook the polenta for about 1 hour, stirring often.
Meanwhile, clean the mushrooms, removing the earthy part, clean them well with a damp cloth and slice the larger ones. Peel the sausage and cut it into pieces.
Peel garlic, remove any sprouts, and crush. Lightly brown it in a pan with sausage, some sage leaves, and 2 tablespoons of oil. Combine the mushrooms, salt, and pepper and cook for about 15 minutes.
Just before the polenta is cooked, season with 2 tablespoons of oil. Once ready, store in a round mold of about 20-22 cm in diameter and level it with the back of a spoon.
Spread on the polenta the tomato pulp, salt, pepper, add the mushrooms, sausage, and mozzarella cubes. Bake the pizza in the oven for about 10 minutes at 230 a.s. for about 10 minutes.