Rabbit with Pancetta and Tomatoes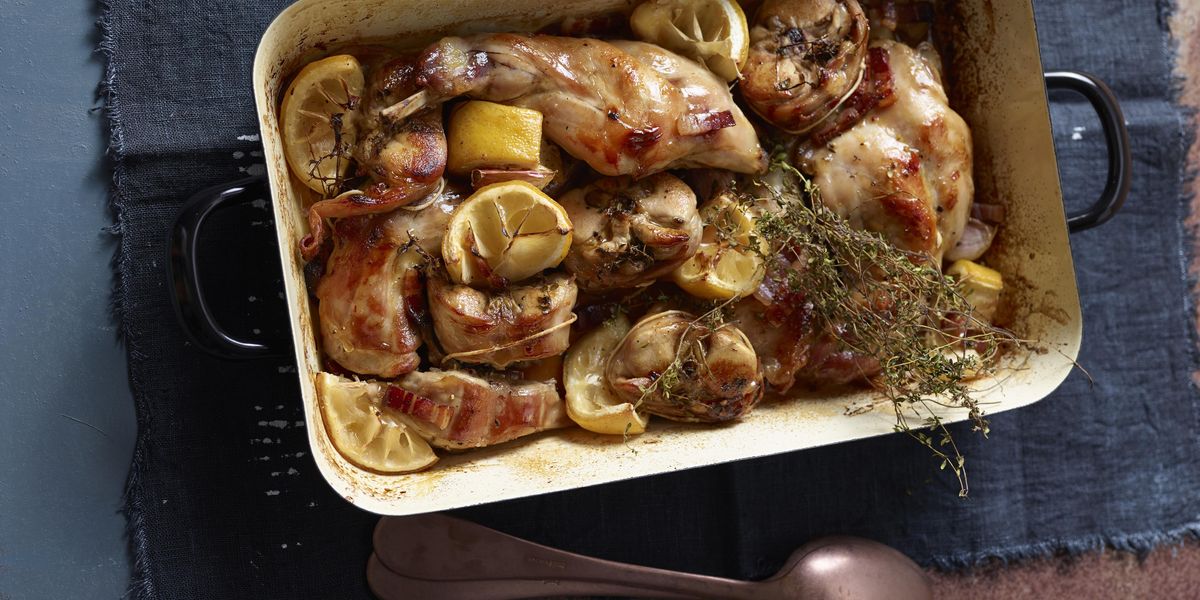 Rabbit is a lean white meat similar to chicken that is very popular in Italy. Indeed, you can substitute chicken in this recipe from the Tuscan coast if you prefer.
Wrap each piece of rabbit with a slice of pancetta, reserving the liver. Heat 4 tablespoons of extra virgin olive oil in an ovenproof casserole. Brown the rabbit on all sides. Remove the rabbit to a side dish, leaving the oil in the casserole.
Preheat the oven to 350°F/180°C/GasMark4.
Cut the onions into ½-in/ 1-cm slices and place them in the casserole. Cook over low heat, in the oil from the rabbit, for 5-6 minutes, until they are translucent. Meanwhile, rinse the tomatoes and chop 2 of them into small dice. Return the rabbit to the pan with the chopped tomatoes, chopped liver and the rosemary leaves. Season with salt and pepper. Pour in the wine. Place the casserole in the center of the oven and cook for about one hour, basting the meat from time to time.
While the rabbit is roasting, cut the remaining tomatoes in half, crosswise. Place them in a bowl with the remaining oil and a sprinkling of salt and pepper. Heat a nonstick pan or skillet and cook the tomatoes for a few minutes on each side until they soften and brown lightly. Serve with the rabbit.