Risotto with Parmesan Cheese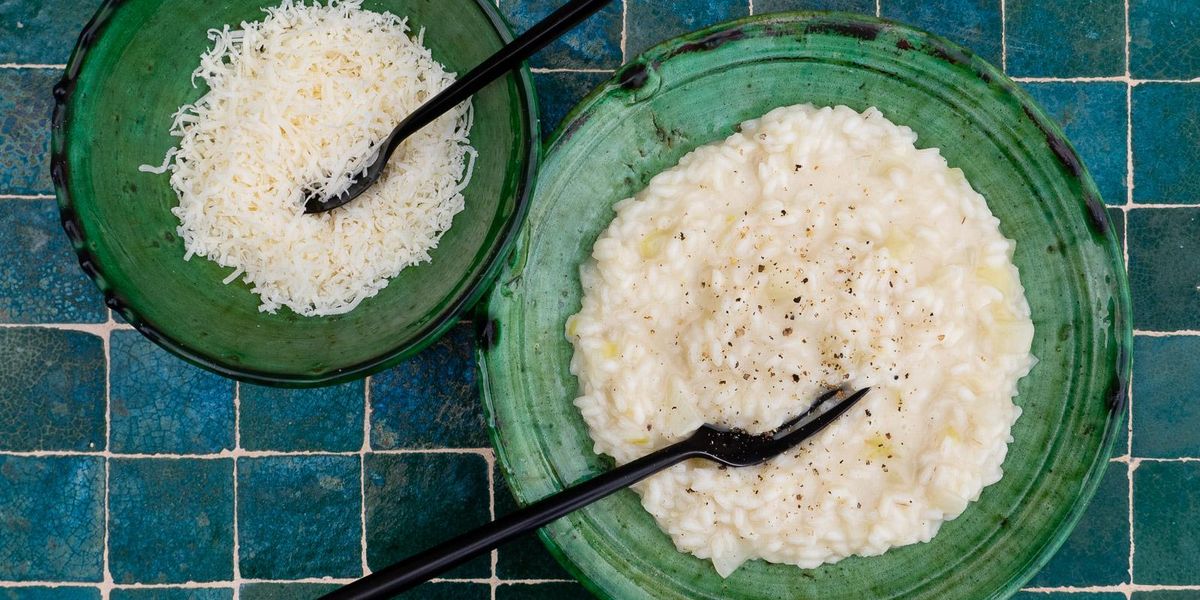 Risotto has a reputation for being tricky and hard to cook. It really isn't. All it takes is a bit of tlc: you just need to pay attention and stir it as it cooks. Once you've mastered the technique you can choose many flavorings for your risotto, from mushrooms to pumpkin to this classic, with Parmesan cheese. The secret is also to use real Italian medium-grain risotto rice, like Arborio or Carnaroli. (Vialone Nano is another good option.)
In a risotto, the raw rice is added to sautéed onion, coated with butter, and toasted briefly before the liquids are added. Continuous stirring releases some of its glutens and the result is a creamy mass in which the firmness of the individual rice grains is still apparent.
Heat the broth in a medium saucepan. Keep it simmering while the risotto is being cooked.
In a large heavy frying pan or casserole melt two-thirds of the butter. Add the onion, cooking it gently until it is soft and golden. Stir in the rice to coat it well with the butter. After 1-2 minutes pour in the wine, raise the heat slightly, and cook until the wine evaporates.
Add one small ladleful of the simmering broth. Using a wooden spoon, stir the rice over moderate heat until the broth is absorbed. Add a little more broth and stir again until the rice dries out. Continue stirring and adding the liquid, a little at a time.
After about 20 minutes of cooking time, taste the rice. Season with salt and pepper. Continue cooking, stirring and adding the liquid until the rice is al dente, or tender but still firm to the bite. The consistency should be a little loose. The total cooking time of the risotto may be from 20-35 minutes, depending on your rice. If you run out of hot broth, use hot water, but don't worry if the rice is done before you have used up all the broth.
Remove the risotto pan from the heat. Add the remaining butter and the cheese and stir for 1-2 minutes. Taste again for seasoning. Allow the risotto to rest for 3-4 minutes before serving.