Six good reasons to eat eggplant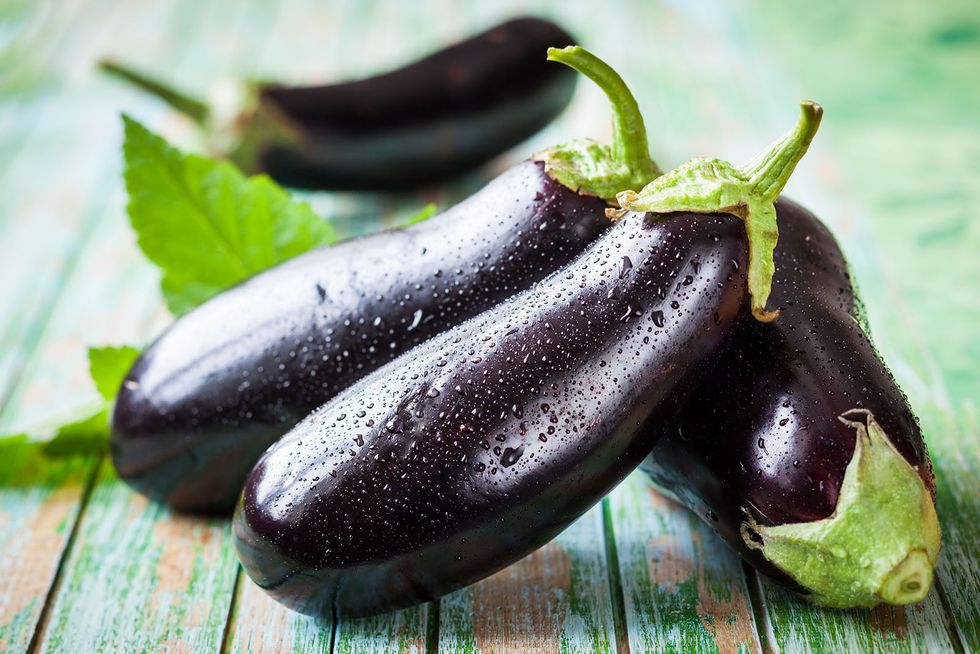 Queen of summer gardens, versatile and dietetic, eggplant should never be missing on the table because it is a wealth of well-being. For the heart, for the head and for the figure
From the famous eggplant parmigiana to aubergines preserved in oil, from super light slices of grilled aubergines to tasty sauces with diced aubergines to season the pasta. In short, no doubt about it, cooked in the oven, grilled, in a pan as in the pressure cooker, aubergines are a tasty and versatile vegetable that lends itself to the creation of a thousand recipes. So here are six good reasons to eat them, with one precaution: use the oil sparingly because aubergines absorb more than a sponge.
On a diet with taste
The protagonist of tasty and light menus that women like, aubergines find a lot of space in the slimming diet menu in a healthy daily diet, because they are low in carbohydrates and calories - 18 Kcal per 100 g - and do not contain fat. Obviously, if you want to lose weight, it is better to forget to prepare them fried or to resort to elaborate recipes with many condiments that aubergines are able to absorb in large quantities, better to focus on grilling, certainly lighter but tasty.
With a fresh mind
Among the many beneficial substances present in aubergine - it is rich in vitamins and mineral salts - there are two particularly important: nasunin and chlorogenic acid. These are two antioxidants that are particularly active against free radicals that threaten the health of the body's cells. Research has shown that Nasunin in particular is active in protecting the degeneration of brain cells. But eggplants are a great resource for those who want to keep the brain active and the mind fresh, the phytonutrient mix acts as a booster for mental health, improving blood circulation and oxygenation. This feature combined with the large amounts of potassium, which acts as a vasodilator and booster, makes eggplant one of the best natural food brains.
The color that gives well-being
The eggplant is a mine of special antioxidants very powerful against aging and free radicals and minerals. It is particularly rich in potassium and therefore it is suitable for summer menus, a period in which strong sweating favors its abundant loss. But it is in the purple black color that the great strength of aubergines hides. A color due to anthocyanins, precious substances for blood circulation. With their antioxidant and antiradical activity, these typical pigments of aubergine are beneficial in case of fragile capillaries, and inhibit the enzymes that cause tissue aging and that destroy collagen and elastin. A real blessing to improve circulation and leg well-being
Read and purify
Like other vegetables, eggplants also provide large amounts of fiber, necessary for those who want to follow a balanced diet and for those who want to lose weight. Necessary for gastrointestinal well-being, they promote digestion and stimulate peristaltic movement, that is the contraction of the intestinal muscles necessary to get rid of toxins and to fight constipation. Furthermore, the large amount of fiber in aubergines quickly induces a sense of satiety, to the satisfaction of those who want to stay light without making too much effort.
Down cholesterol and blood pressure
Eggplants are able to lower LDL cholesterol levels and stimulate the increase of good HDL cholesterol. Reducing bad cholesterol is important for preventing heart and circulatory diseases such as atherosclerosis. And in the aubergines there is a large amount of bitter substances similar to the cynarin of the artichoke that rebalance the liver function. This means that the liver can work to lower LDL cholesterol. But that's not all: the large amount of bioflavonides that are very active in lowering blood pressure is a guarantee for those who want to ensure a healthy heart and perfect circulation.
Health snacks for expectant mothers
Expectant mothers know it well: folic acid should not be lacking for the health of their future baby. Eggplants are an excellent resource of this precious substance for the formation and healthy development of the unborn child and are probably the tastiest and lightest source of folic acid that a mother can indulge in even in large quantities, without fear of gaining too much weight.