Soave, the garganega venetian wine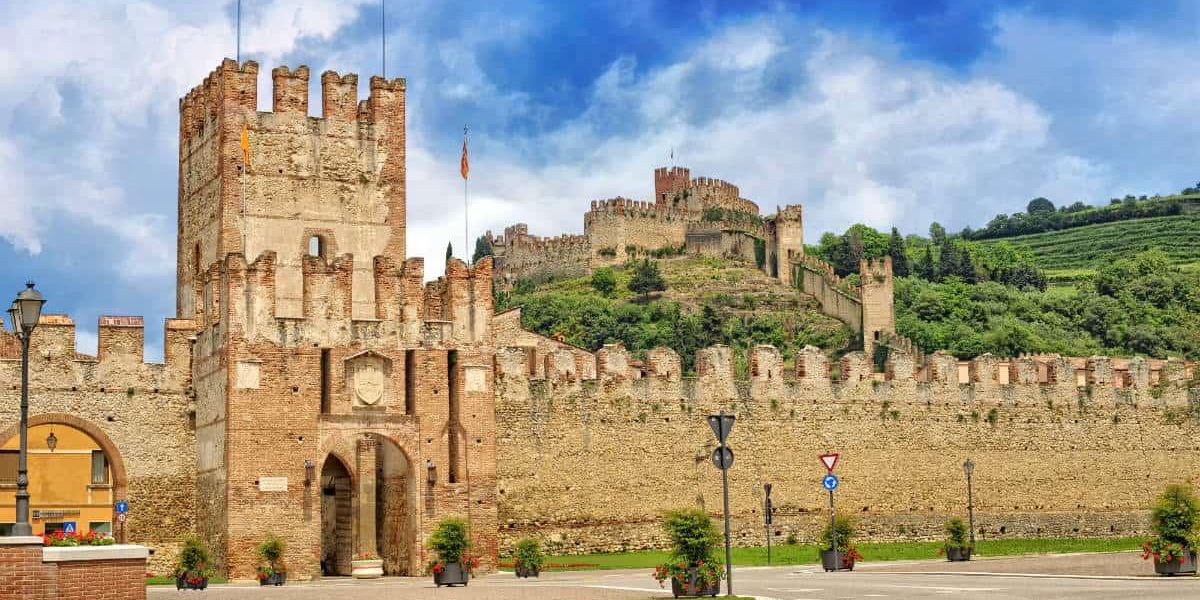 Soave has produced on very unique soils: a very ancient origin, a mixture of volcanic layers of tuff and limestone. The main grape variety is Garganega, which must be present for at least 79%, to which can be added Trebbiano di Soave, Pinot Bianco and Chardonnay. Many are the exemplars produced in purity with Garganega, for a more typical wine. It is on this tufa that Garganega finds ideal conditions to best express its qualities of minerality, sumptuousness and finesse.
Its history is very ancient, with ups and downs in regard to its success: after the fall of the Roman Empire, there was chaos, but also an intense migratory movement which favored the rising of new cities, such as Soave, which was founded by Longobards, called Svevi or Sauves, from which the name that was later used for wine as well.
As a matter of fact, Soave area, thanks to its particular soils and to its mild climate, is famous for its wines since Roman times, as a matter of fact the first mentions of Soave wine are dated back to Cassiodoro.
Other sources say the origin of the name of Soave wine derives from Dante Alighieri's writings during his exile in Verona.
In 1786 during a visit to Verona Johann Wolfgang von Goethe described the harvest and the area of Soave.
As years went by, the wine had swinging periods and it is only in the last century, thanks to grapes and to a clear shift towards quality production, Soave resurrected.
Soave is one of the few DOCGs named after production and the conditions are very similar to the ones we find in Orvieto, another tufa volcanic area, the homeland of a great white wine.
There are three types of Soave DOC, base, superiore classico and Soave Riserva, a wine for every occasion and allowing winemakers to diversify styles and commercial offers.
The base wine, Soave DOCG Superiore, is an approachable, fruity, ready, sapid and medium-bodied wine, excellent for exalting fish dishes, pasta with pesto sauce and seafood appetizers.
Then we have Soave Superiore Classico, exclusively produced in the oldest area of Soave, that is in the whole municipality of Soave and Monteforte d'Alpone, the so-called historical area.
Finally, we have Soave Riserva, a wine that must be aged for two years according to the disciplinary.
Tasting notes
It is not an aromatic or markedly acid wine. However the sugar content at full ripeness is excellent and its aromas of white flowers, peach and almond are immediately recognizable. The skin is thick and contains many pigments and tannins. The color is golden, intense straw yellow. The terroir takes care of the rest, enhancing the minerality and thickness of the wine. Medium acidity and aromas make it a wine particularly suitable for the whole meal. Depending on the combination of terroir, aging and winemaking style, there is a Soave that suits the occasion and the palate. A good Soave Classico may seem more like a Chablis or Riesling after many years. Some Soave wines spend some time on yeasts, giving the wine complexity and structure perfect with fish and vegetables dishes or with grilled fish or chicken. Soave Classico DOC and Soave Superiore DOCG wines are more complex, structured and elegant than a Soave DOC. In general terms, calcareous soils tend to give a fine and elegant Soave with a white floral bouquet, sweet herbs and a light bitterness of almond on the finish. Wines from basaltic soils are bolder, revealing more complex aromas and flavors of herbs, citrus fruits and minerals. There is some persistence and marked savoriness that improves with aging.
Food pairing
Soave is a wine that lends itself to combining varied dishes: perfect as an aperitif and with light first courses based on vegetables, fish, shellfish such as oysters. It is also perfect for pairing with polenta, snails and mature cheeses with a strong flavor.