The bacon and potato cake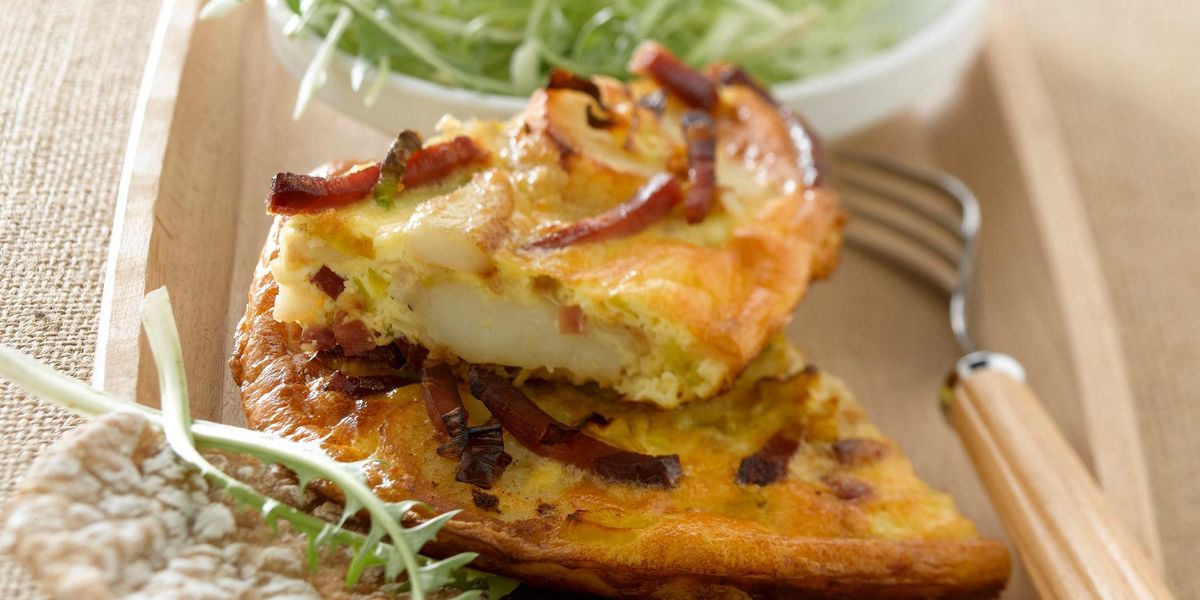 Speck and potato cake is a recipe with a strong flavor, a dish to serve with a fresh salad of cabbage and herbs.
A classic and always very successful combination in the recipe of bacon and potatoes: discover with us how to prepare it.
Clean leek, wash and cut into thin slices. Wash and dry the apples, remove the core with the appropriate tool and cut into slices 2-3 mm thick. Melt 10 g of butter in a pan, add leek and simmer over low heat for 5-6 minutes. Combine the apples and continue cooking over high heat, until they are soft.
​Rule of salt, pepper and turn off the heat. Cover with baking paper a hinged mold of 7 ounces in diameter. Peel the potatoes, wash, cut into slices and dip in boiling water slightly salted for 5 minutes. Lay on the bottom of the mold a layer of potato slices well-drained, add a pinch of salt, a layer of bacon, apple gills, slices of Montasio and sprinkle with a spoonful of Parmesan cheese.
Continue with the layers, until the ingredients are exhausted; cover the mold with aluminum foil and bake the cake in the oven already hot at 356°F. for 35 minutes. Remove aluminum and continue cooking for another 25-30 minutes, until the surface is golden and crispy. Let it cool slightly, gently strain and serve slices.
Speck cake and potatoes: suggestions and variations
You can customize the bacon and potato cake recipe by adding some diced bacon or replacing this ingredient with speck. To make the mixture, add grated cheese, or a little 'mozzarella cubes. A tip: do not overcook the potatoes, because already the speck will give a certain flavor to the mixture of the cake.