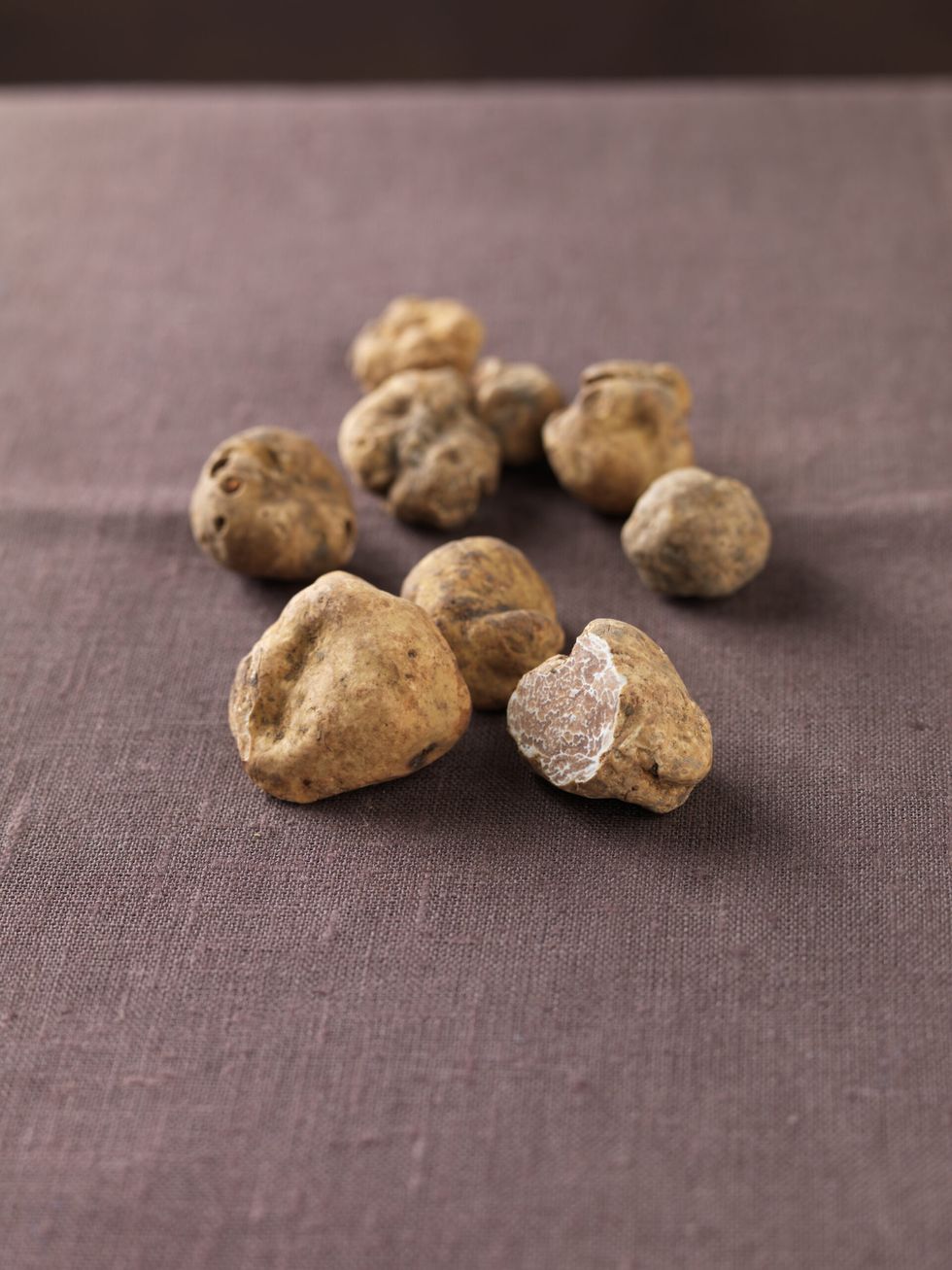 The truffle is a highly prized and expensive mushroom that grows underground. The name derives from the Latin «terrae fungum» which means precisely tuber of earth. The shape of the truffle is very irregular and its dimensions are varied: there are large truffles little more than a cherry and others that weigh 2 ounces.
In Europe, there are about thirty species, but in our country, Italy, the best known are the Alba truffle - white - (the most prized) and the Norcia truffle - black -. The first (Tuber magnatum) has a light brown-yellow color, a very intense aroma, and an irregular and globular shape: the inside is slightly pink and dotted with white. It should be used entirely, including the leather which, before use, should be brushed with a stiff brush and then rubbed with a damp cloth to remove all earth residues.
The truffle is preferably eaten raw, sliced into very thin slices with a special tool called truffle slicer, and is placed on risotto or on pasta, eggs, etc.
The white truffle is born spontaneously in some areas of northern and central Italy (among the most suitable, Alba, in Piedmont, and Acqualagna, in the Marche), where it is harvested until the end of December. Upon purchase, the important thing is that it is fragrant, firm and at the right point of ripeness, recognizable by the internal color (from milky white to brownish) and by the white, well-defined veins. The white truffle should be tasted raw, on fresh pasta, eggs, raw meat.
The black truffle (Tuber melanosporum), which grows mainly in Umbria and Tuscany (as well as in some French and Spanish regions), is less valuable and fragrant than the previous one: it has grayish-black skin while the inside is purplish-gray or reddish with lighter veins. Unlike the white truffle, which has no "similar", the black one has many and of lower value; moreover, it becomes more appreciable when cooked because it develops its perfume more.
The name " tartufo" (Italian translation of truffle), in addition to the highly prized mushroom, also qualifies a small dessert prepared with melted chocolate, butter, and bitter cocoa in the shape of the authentic truffle and a semi-spherical semifreddo coated with bitter cocoa or with a chocolate glaze.