Tuna and Farro Salad with Lemon-Tomato Dressing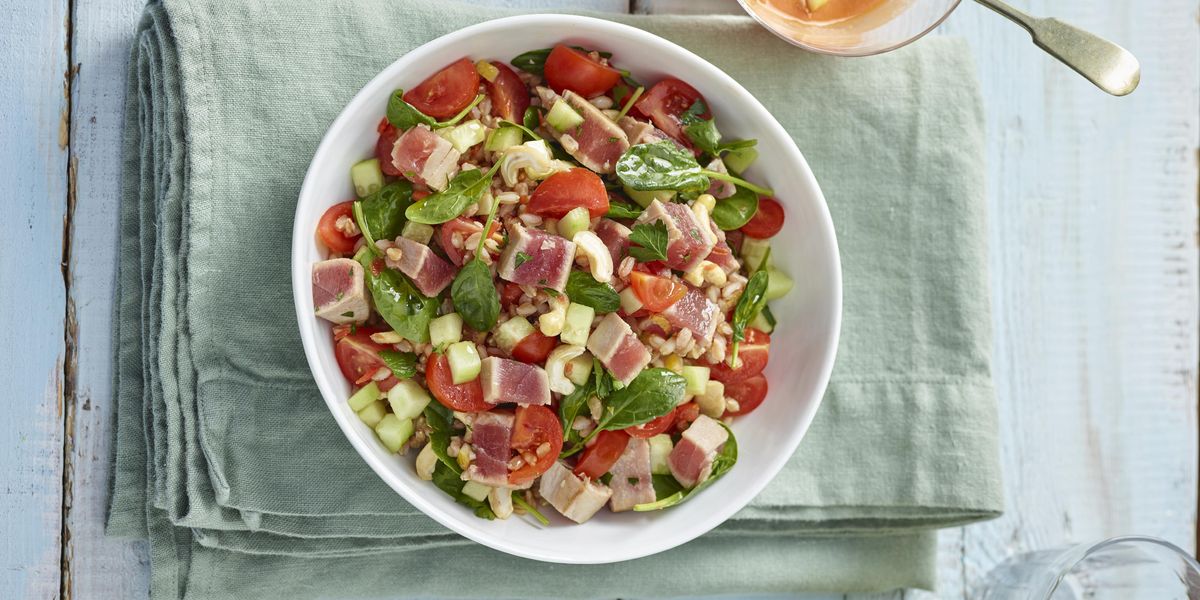 Tuna is such a versatile ingredient, whether you are using a can you have in the cupboard or a slice of fresh fish. Similarly, farro, the ancient grain from central Italy, can be eaten hot or cold, and is more nutritious.
Bring a saucepan of salted water to the boil for the farro. Cook the farro for 35 minutes. Turn off the heat. Drain the farro in a colander before returning it to the pan. Cover and leave the farro to swell for a further 15 minutes.
While the farro is cooking, cut the lemon in half. Squeeze one half, reserving the juice. Cut two slices from the other half. Place the lemon slices (including the peel), the lemon juice, the chopped tomato, 3 tablespoons of extra virgin olive oil and 1 teaspoon of salt in the bowl of a processor or blender. Process till smooth.
Spoon the farro into a serving bowl. Dress it with half of the lemon-tomato sauce and the chopped basil and mint. Cut the cucumber and cherry tomatoes into small dice. Place in a colander and salt lightly.
Heat 2 tablespoons of extra virgin olive oil in a small non-stick frying pan or skillet. Cook the tuna for 1-2 minutes per side, just enough to sear and lightly cook it. Remove to a side plate. Season with salt and a few grindings of black pepper.
Roughly chop the cashew nuts. Stir them into the farro with the cucumber, tomatoes and spinach leaves. Cut the tuna into bite-size pieces. Fold it delicately into the salad. Serve at room temperature with the rest of the dressing passed separately.