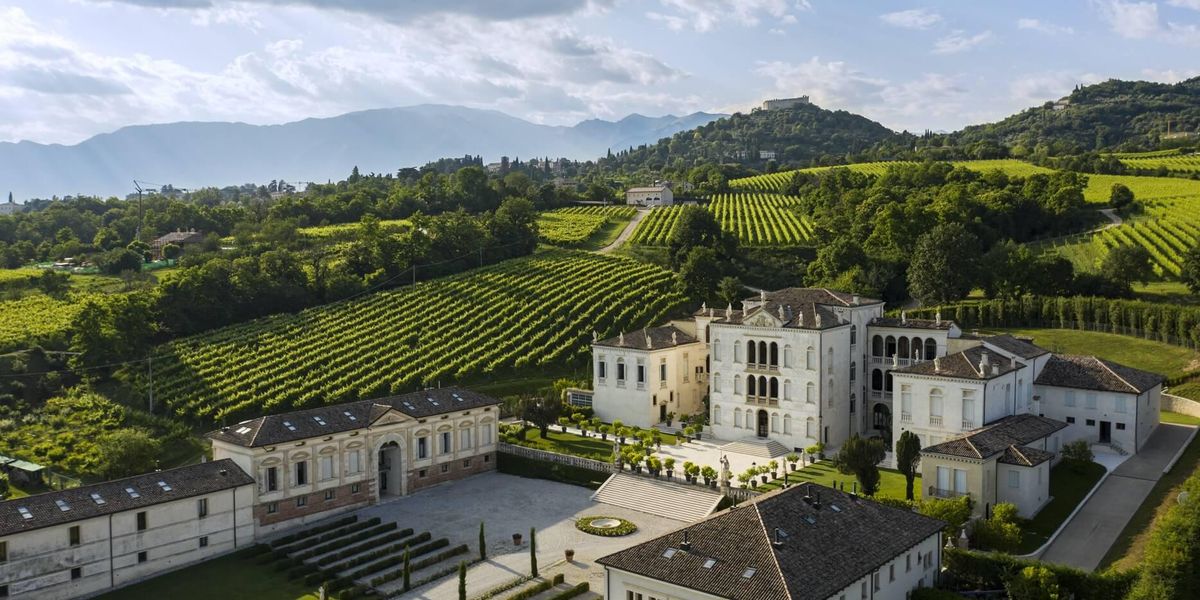 Asolo Prosecco Superiore is a DOCG that is part of the wider Prosecco system. It takes its name from Asolo, the "city of a hundred horizons" as it was defined by Giosuè Carducci: of the almost 1,500 hectares of vineyards, about 1,200 are destined for Asolo Prosecco Superiore, for a production of about 15 million bottles.
The presence and development of vines in the Colli Asolani and Montello is due to the Benedictine monks: they settled around the year one thousand in particular in the monastery of S. Bona in Vidor and in the Certosa del Montello in Nervesa; with their work they have influenced in a very important way the agricultural and viticultural history of the area, determining the deep culture for the vine and wine that persists to this day, so much so that the specialization of the plants is repeatedly emphasized in historical texts.
In the second half of the fourteenth century, when this territory passed to the Venetians, Colli Asolani were recognized as an important enoic area and its wines were exported abroad as early as 1400. It is right from this period that the first Venetian villas started to be built, masterpieces of Palladian architecture and whose splendor has been preserved until today: often vineyards were cultivated in the territory just surrounding the villas, surrounded by walls, as small clos.
According to the disciplinary, Asolo Prosecco is made of Glera vine for a minimum of 85%, moreover can be added up to a maximum of 15% of Verdiso, Bianchetta trevigiana, Perera and Glera Lunga grapes.
Consorzio Vini Asolo e Montello was established in 1985 with the intent of protecting the appellation, to promote the wines of the area and to promote the territory as well as wine tourism.
Tasting notes
Colli Asolani-Prosecco or Asolo-Prosecco DOCG is a dry wine, with characteristics of elegance, lightness, slenderness and a delicate bouquet between fruity, floral and a light vegetal note, citrus notes (lemon, citron), fine and delicate honey and hints of ripe apple and white flowers. On the palate, it is smooth, delicate, fresh and harmonic, with a dry aftertaste.
Food Pairing
Asolo Prosecco DOCG is best served at a temperature of 6/8 °C. Excellent to drink as an aperitif, it goes very well with appetizers, first courses of seafood or vegetables, second courses of fish with delicate flavors that enhance the elegant bubbles.