Baked pasta with aubergines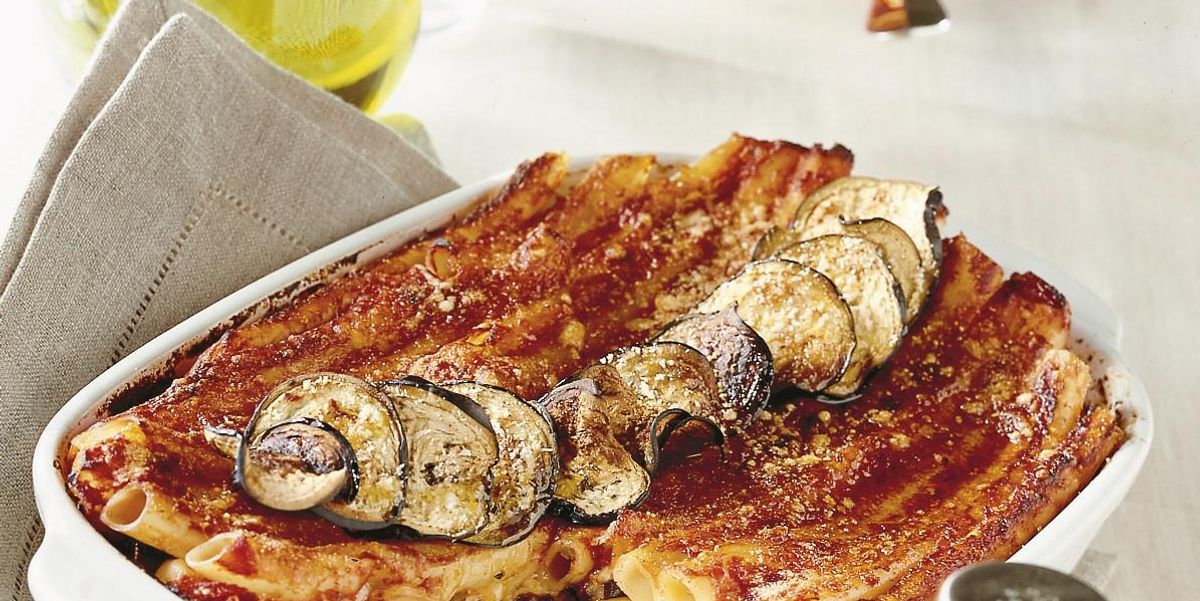 Instructions
There are many ways to prepare baked pasta, but baked pasta with aubergines is undoubted, one of the most popular and appreciated recipes of Italian cuisine; a first course extraordinarily good! Baked pasta with eggplants can be made in many ways, with fried aubergines or in a pan, with mozzarella or scamorza cheese, with tomato sauce or fresh tomatoes, but the variant ofSale&Pepe has something more: it is an easy recipe to prepare! It is done. A mix of Mediterranean flavors and aromas that make baked pasta with Sale&pepe aubergines tasty, but light and, with its crust on the surface, is really irresistible! Baked pasta with aubergines is a dish to be prepared all year round. In summer, when aubergines are in season, or winter when you want those scents and flavors that remind you of the summer.
​ It is a classic first course that is prepared on Sundays or holidays when you.
It is a vegetarian recipe, that you never get tired of and, generally, everyone likes, young and old. If you prefer, baked pasta with aubergines from Sale&pepe you can prepare it well in advance and leave it to rest in the oven or wrap it in aluminum foil or in a cloth to bring it hot at a friends house or on a trip.
So, do you fancy baked pasta with eggplant? Try this Sale&Pepe recipe, you will love it at the first. Taste and amaze your guests with traditional Italian cuisine!
Wash and cut 3 small eggplants into 1/2 cm thick slices, sprinkle with coarse salt, and put them to drain pasta with a weight above for 30 minutes, to remove the vegetation water and a little bitter taste of this vegetable. Then wash the slices under running water, and pat dry.
Heat a non-stick frying pan with 3 tablespoons of extra virgin olive oil and 1 pinch of salt, and brown the eggplant. Peel and finely slice 1 onion, sauté in the pan, add the tomato sauce, 1 sprig of basil, and 1 pinch of salt. Let it cook for 5 minutes.
​Cook the zite, or the short pasta format you prefer, in a pot with plenty of salted water for the time indicated on the package, leaving it a little al dente. Drain the pasta and season with half of the sauce.
Cut the smoked scamorza cheese into thin slices. Pour 2-3 tablespoons of the sauce into an oven dish, then lay a layer of pasta, a few tablespoons of sauce, some slices of scamorza, and sprinkle with a pinch of grated Parmigiano cheese. Complete the layers until all the ingredients are used up. Bake in preheated oven at 200 º C for 30 minutes. Bake, wait for 1-2 minutes for the flavors to settle, and serve your pasta in the oven with hot and streaky aubergines.