Baked zucchini/courgettes, potatoes, tomatoes and red onion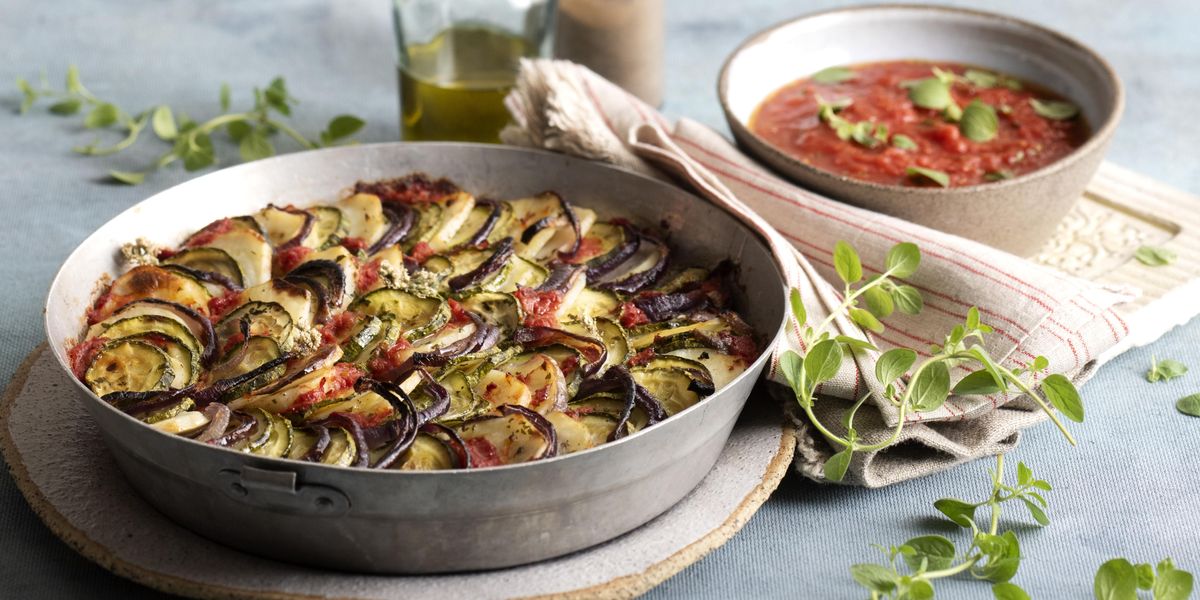 This easy baked vegetable combo from Puglia, in Italy's south, is substantial enough to eat alone or with a side salad. It makes a perfect summer dinner dish. Use imported plum tomatoes from Italy or fresh tomatoes when they are ripe and juicy.
Combine the garlic and parsley in a small bowl. Set aside. Preheat the oven to 400°F/200°C/GasMark6.
Using a sharp knife or the slicer of a food processor, slice the potatoes into rounds of 1/8in/4mm. Slice the zucchini/courgettes a little thicker, into rounds of 1/6 in/5mm. Place them all in a large bowl and sprinkle with 3 tbsp olive oil, the chopped parsley and garlic and half of the oregano. Season with salt and freshly ground black pepper and stir to evenly distribute the seasonings.
Slice the onion into 1/8 in/4mm rounds; cut each round in half. Mix the chopped tomatoes and their juice in a bowl with the remaining oregano, 2 tablespoons olive oil and a little salt and pepper. Oil an 11-in/ 28-cm round baking dish.
Spread three-quarters of the tomato mixture in the bottom of the baking dish. Arrange the sliced vegetables in overlapping circles, alternating them in an even layer. Dot with the remaining tomatoes. Cover the dish with foil and bake for 30 minutes. Remove the foil and continue baking until the vegetables are soft and golden on top, about 25 minutes. Remove from the oven and allow to cool slightly. Serve warm or at room temperature.