Nobile, the wine of Montepulciano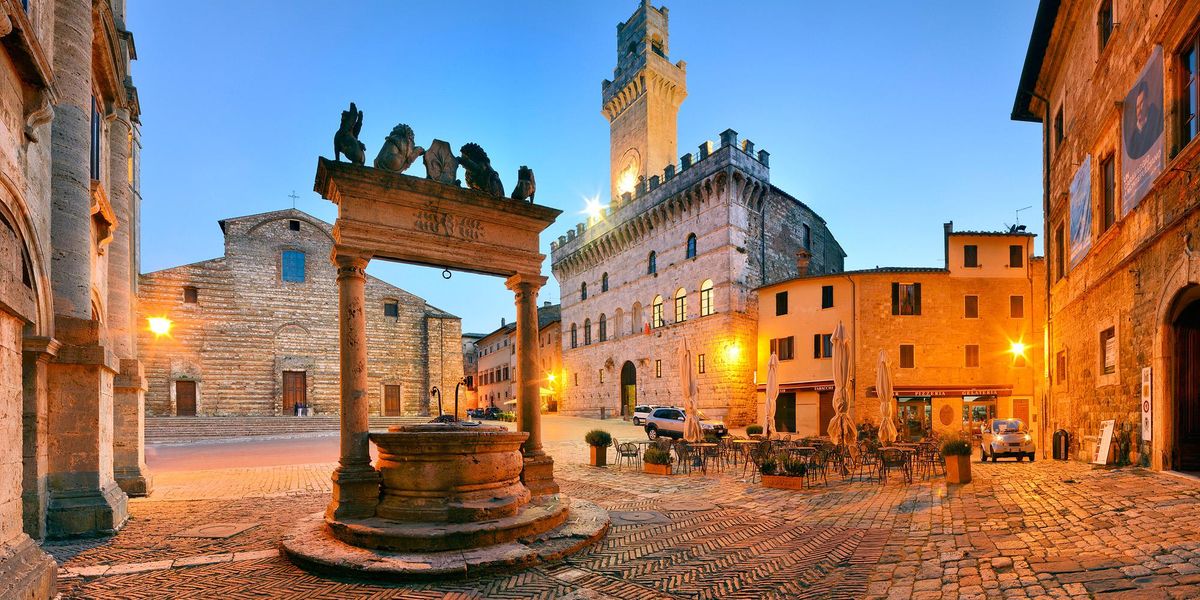 The history of the town of Montepulciano is very connected to wine. The first to talk about Montepulciano was Tito Livio, in the III century B.C., and then cleric Arnipert, who in the IX century donated to the church a land cultivated with vines in the "Castello di Policiano".
The most accredited mention of it was in 1549, when Sante Lancerio - Pope Paul III's wine steward - defined it as a perfect wine, for gentlemen. But it was only in 1787 that in an expense note of the Governor of the Regio Ritiro di San Girolamo, Giovan Filippo Neri, this wine was referred to as "noble", the appellative to which today's DOCG refers.
There is no lack of literary citations: Voltaire had Candide invite some people for lunch by offering partridges from Lombardy, sturgeon eggs and Montepulciano wine; Edmond Dantes was left to expiate on the island of Montecristo, accompanied by this wine.
Even the American President Thomas Jefferson, an expert in wines as to sell Champagne in the United States of America (before becoming its President), during his journey in Italy often tasted Vino Nobile, which was also mentioned in many reports of the Grand Tours of the 1800s.
Nobile di Montepulciano refers to wines produced in the territory of Montepulciano, in the province of Siena, from Sangiovese grape in its variety Sangiovese grosso, known in this area as Prugnolo gentile.
Tasting notes
Vino Nobile di Montepulciano must age for at least 24 months, 36 months for Riserva, of which the majority in cask or barrique. The characteristics of Vino Nobile di Montepulciano are those typical of Sangiovese, the grape variety of reference, i.e. the intense color, the complexity of the bouquet with fruity notes made more complex by the long aging periods, which add tertiary sensations of vanilla, licorice and tobacco. The traditional tannins of Sangiovese and the always pleasing hint of residual freshness are softened by the smoothness induced by the aging and by the full body of this wine.
Nobile is a fine, full-bodied wine with an intense bouquet of plums, cherries, olives, violets, herbaceous and earthy notes. The freshness is lively, the fruit warm and smooth, the tannins are intense, but sculpted by long aging in wood. If you visit the wineries around Montepulciano, you will notice that Nobile di Montepulciano is indeed a balsamic wine with earthy and underbrush notes, but it is not as mineral and austere as Brunello, in fact, you will recognize it for the softness of its tannins and the classic "all plum" fruit.
Food Pairing
Nobile is a carnivorous wine that gives its best with red meats, grilled meats, stews, Texas brisket, game and foods rich in sweet spices such as cloves and cinnamon. Turkish Lamb Skewers. Excellent with pecorino di Pienza and aged cheeses; try it with a lamb tajine with plums and lamb and dried fruit preparations. Do not disdain lasagna baked in Bologna style. And let's not underestimate vegetarian preparations based on eggplant, radicchio, or a classic fillet with mushrooms.