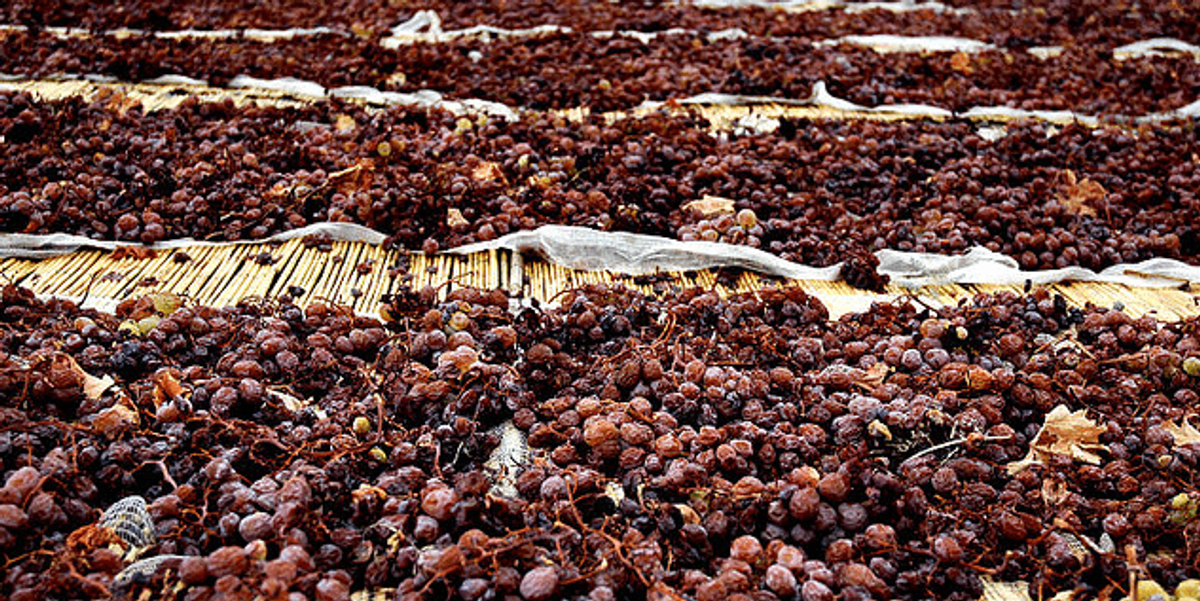 The passito comes from an island of 83 square kilometers in the south of Italy, in the middle of the Mediterranean Sea, which originates this precious wine. Called "the yellow gold of Pantelleria", it is a slightly fortified wine, sweet and aromatic, fragrant and intense. A gem in the panorama of Italian passito wines, awarded the DOC in 1971.
The production of Passito on the island dates back to over two thousand years ago, when in 200 BC the Carthaginian general Magone.
This wine is produced since time immemorial in the island of Pantelleria from the variety of Zibibbo grape and has a history full of important awards. It was awarded in 1900 at the Paris Exhibition. Its absolute goodness has fed over the years curious legends, such as the one about the goddess Tanit who pretended to be the cupbearer of the gods and substituted ambrosia, the usual beverage of Olympus, with the must of Pantelleria's vineyards, succeeding in conquering Apollo to whom she was in love.
The disciplinary is very strict. Everything must take place on the island. Not only must the grapes be produced on Pantelleria, all winemaking steps must also be carried out on the island, including grape drying and bottling. In 2014, Unesco recognized the Vite ad Alberello di Pantelleria among the Intangible Heritage of Humanity.
It is, after all, a passito wine, which is unique in the national enological production. On the island the withering of wine, also in order to enhance the climatic conditions of the island, is done in the open air by letting berries progressively lose water. This happens both before and after harvesting, with the goal of increasing the sugar content of the wine, a characteristic which makes it unique.
The island of Pantelleria attracts many tourists and the tradition of passito wine is so deep-rooted that Consorzio Vini di Pantelleria DOC has also organized a dedicated festival, with a program of events, tastings and tours dedicated to wine, Pantelleria's agriculture, archaeology and the discovery of the volcanic nature of the island. The initiatives that have told the value of heroic viticulture, Pantelleria DOC wines, Pantelleria's cuisine and the archaeological and naturalistic heritage of the island garden of the Mediterranean have been very successful.
Tasting notes
Passito di Pantelleria poured in the glass shows an intense golden yellow color with amber hues. The nose is fragrant and aromatic with clear hints of dried figs and hints of ripe fruit.
The taste is sweet, pleasant, warm and aromatic with a persistent aftertaste of date, candied orange, honey, myrtle and raisin. A sensorial experience which encompasses the tastes and scents of this fantastic land.
Food Pairing
The matching is traditionally done by concordance, such as in case of dry confectionery, particularly the one made of almonds typical of Sicilian food (biscotti della monaca, reginelle and buccellati). The choice of fresh cheeses such as ricotta cheese or blue cheese or foie gras is also valid.