Prosecco, the venetian sparkling wine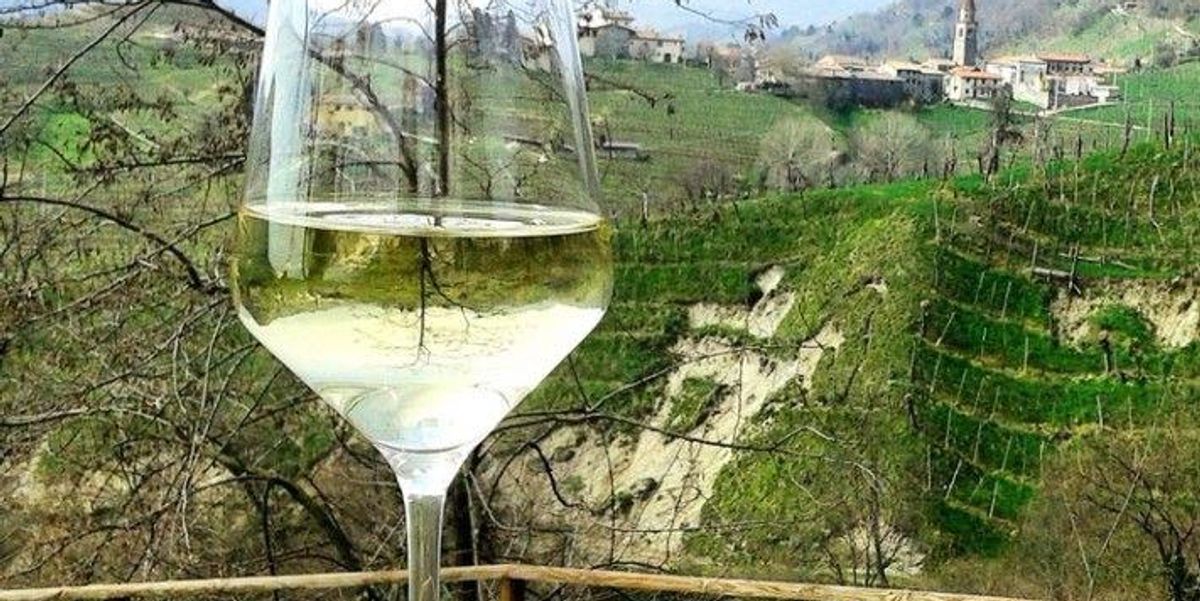 Prosecco is certainly a wine that contributed to creating (and continues to do so) the history of Italian culture.
First of all, it is necessary to distinguish between Prosecco DOC (Denominazione di Origine Controllata) and DOCG (Denominazione di Origine Controllata e Garantita). There are points of contact and differences as well, starting from the same grape (glera) and from the same sparkling winemaking system.
Despite the indisputable quality of DOC proseccos, the DOCG denomination offers something more, and this is also taken into account in sales. Just think that the ratio between Doc and Docg is 18%: this means that only 18 bottles out of 100 of Prosecco Doc become Docg. The difference is also noticeable to the palate: as Prosecco Docg is the result of cultivations done on very rich soils, mineral and clayey, its taste is very multifaceted and full of aromatic scents compared to a "simple" Doc. This is also due to the higher and better exposure of soils to the sun, which therefore prevents the formation of molds.
It goes without saying that a Prosecco Docg wine will cost much more, and this is also justified by the type of cultivation, much more tiring. In the areas of Conegliano and Valdobbiadene, it is never possible to work with tractors, for example, therefore instead of 150 hours needed to work a vineyard, it takes about 600, as everything is worked by hand, under the bad weather.
The DOC area is the largest production area. It is mainly made of new vineyards cultivated almost totally in the plain and entirely worked by machine in order to reach very high volumes and low production costs. This product was created in order to meet the needs of an international market of large distribution in continuous growth. The yield is of 180 quintals/hectare.
The DOCG area includes the denominations Conegliano-Valdobbiadene and Asolo. Here the hilly surfaces rich in minerals and the mild climate are the natural habitat of the Glera vine. Here the production is reduced to 135 quintals/hectare to promote the quality of the wine.
Valdobbiadene DOCG Superiore di Cartizze is the "Grand Cru" of Prosecco, it is called the Pentagon of Gold and it is here that the exclusive Cartizze spumante is produced. This is a selection of 108 hectares where the production of grapes is reduced to 120 quintals per hectare, ensuring the best quality of the grapes, with a higher sugar content reaching peaks of 17 g/L in the freshly pressed must and from which is produced a wine with unique organoleptic characteristics.
Tasting notes
Light and delicate, Prosecco Valdobbiadene DOCG is an easy to drink wine, characterized by a straw yellow color and by a fine and persistent perlage.
In the bouquet stands out an evident floral aroma, of wisteria, acacia and rose, as well as notes of white pulp fruits such as apple, pear and peach.
The bouquet of the sparkling wine is enriched by a light citrus scent, of citron and lemon. The taste is fresh, lively, with sweetness and acidity properly balanced.
According to the version the taste slightly changes, more herbaceous in Extra Dry, drier and more acid in Brut.
Food Pairing
Prosecco is a very versatile wine, perfect as an aperitif, together with snacks and savory appetizers of many styles, or with many first courses, such as homemade pasta and risotto with seafood.
Prosecco is successfully matched to fish main courses, to radicchio, to vegetable soups and salads.
According to many experts, this sparkling wine is perfect for matching with green vegetables, such as spinach and zucchini, as well as with creamy cheese, cow, or goat cheese.