Rainbow Chard with Paprika Eggs and Almonds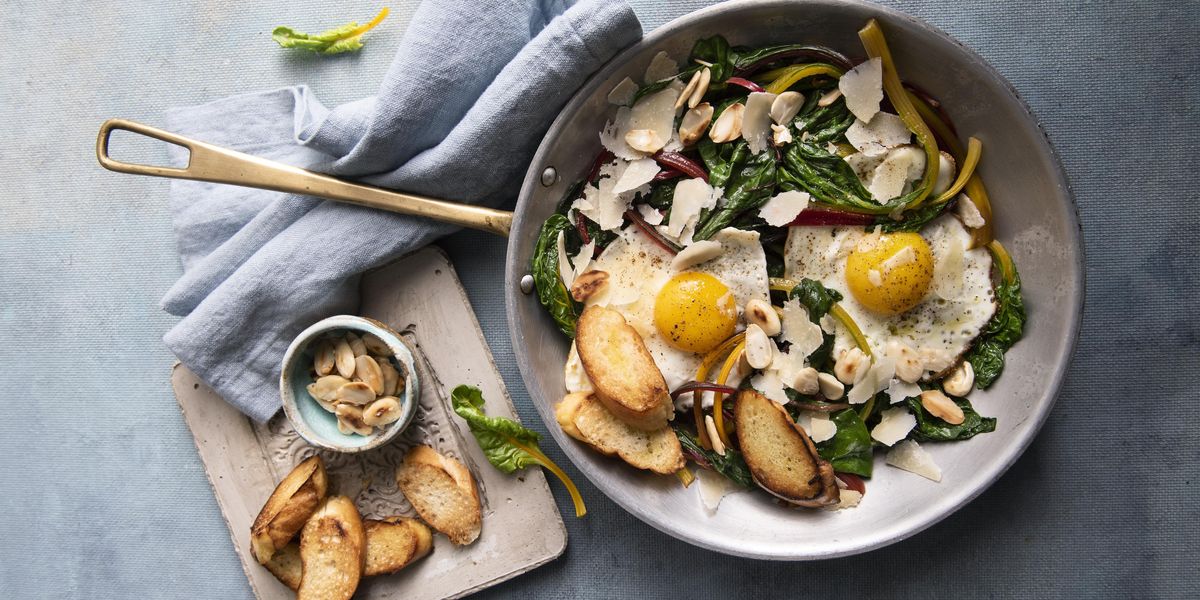 Here's a perfect brunch or lunch dish that's colorful, healthy and satisfying. Make it when chard is in season and you can get tender leaves and stalks. Cook one or two eggs per person.
Cut the almonds in half crosswise. Place them in a small skillet and toast them, without oil, over medium high heat until they start to turn golden. Remove to a side dish. Cut the baguette diagonally into slices. Toast until golden before drizzling each slice with a little extra virgin olive oil.
Wash and drain the chard, leaving the tender stems attached. Place it in a large saucepan with just the water that still clings to the leaves and cover. Cook for 4-5 minutes over medium to high heat or until the chard has wilted. Remove to a side plate. Pour 4 tablespoons of the extra virgin oil into the same pan with the garlic. Cook the garlic for 2-3 minutes or until it just starts to color. Return the chard to the pan and cook it, stirring to coat with the oil, for 4-5 minutes more. Remove to a side dish.
In a large non-stick skillet or frying pan, heat 2 tablespoons of the oil. When it is hot, break as many eggs as you need into the pan, one by one. Sprinkle with salt, pepper and paprika. Cook the eggs to your preference. Divide the chard between 4 serving plates. Top with the eggs, the almonds and shavings of Parmesan cheese. Serve with the toasts.