Sale&Pepe Wine Region Introduction: Tuscany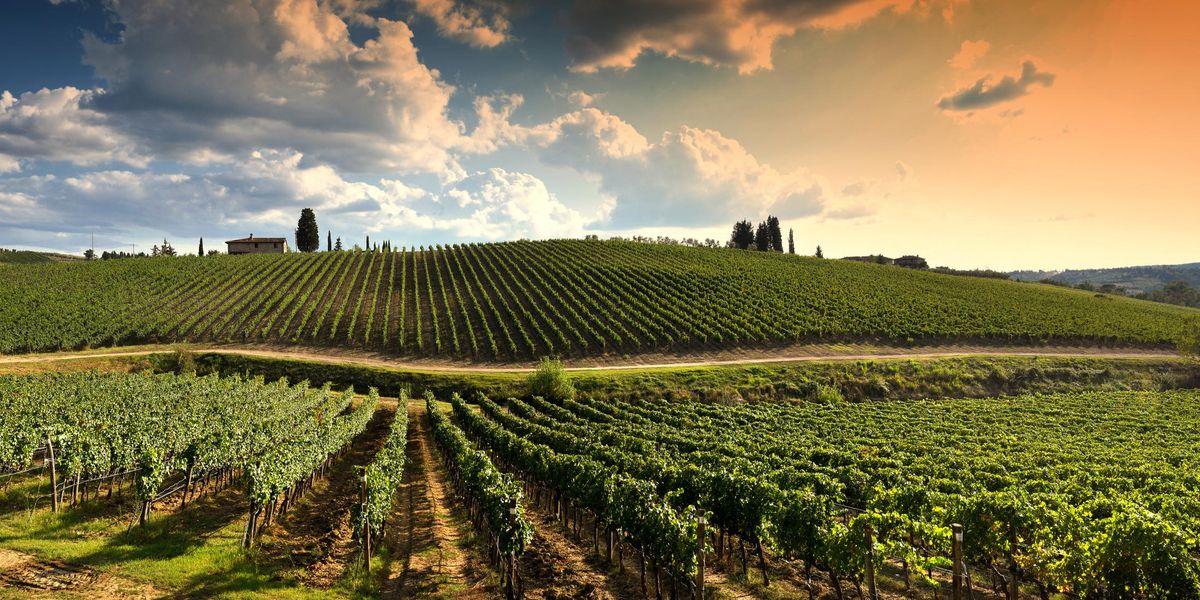 Tuscany is a large region in the centre of Italy bordered by the Apennines to the north and the Tyrrhenian Sea to the west. In vinous terms Tuscany may be synonymous with Chianti, but there is so much more to Tuscany than Chianti. The wines range from what the Italians call vini da pasta – simple wines that you drink with a plate of pasta – to vini da meditazione: wines that you take time to appreciate and enjoy, wines to linger over, that open up in the glass.
Vineyards are an essential part of the Tuscan landscape. All over the region you'll find a patchwork of vines and olive trees interspersed with woods, and evocative alleys of cypress trees, some on steep hillsides, some in more undulating scenery or on the coastal plain. There are enchanting hilltop villages and imposing Renaissance villas.
The Chianti hills form the heart of Tuscany with the vineyards of Chianti Classico situated between the two historic cities of Florence and Siena. The principal grape variety is Sangiovese or, literally, sangue de jovis – the blood of Jove. Sometimes it is blended with other Tuscan varieties like Canaiolo or Mammola. It may also be combined with an international interloper, such as Cabernet Sauvignon or Merlot. But increasingly these days a Chianti Classico wine is a pure expression of Sangiovese with its classic sour cherry fruit. The Chianti Classico DOCG provides the model for numerous other Chianti DOCG appellations, of which the most notable is Chianti Rufina in hills to the east of Florence. You can also find Colli Fiorentini wines to the south of Florence, Colli Aretini from around Arezzo, Colline Pisane from the low hills near Pisa, and Montalbano adjoining Carmignano.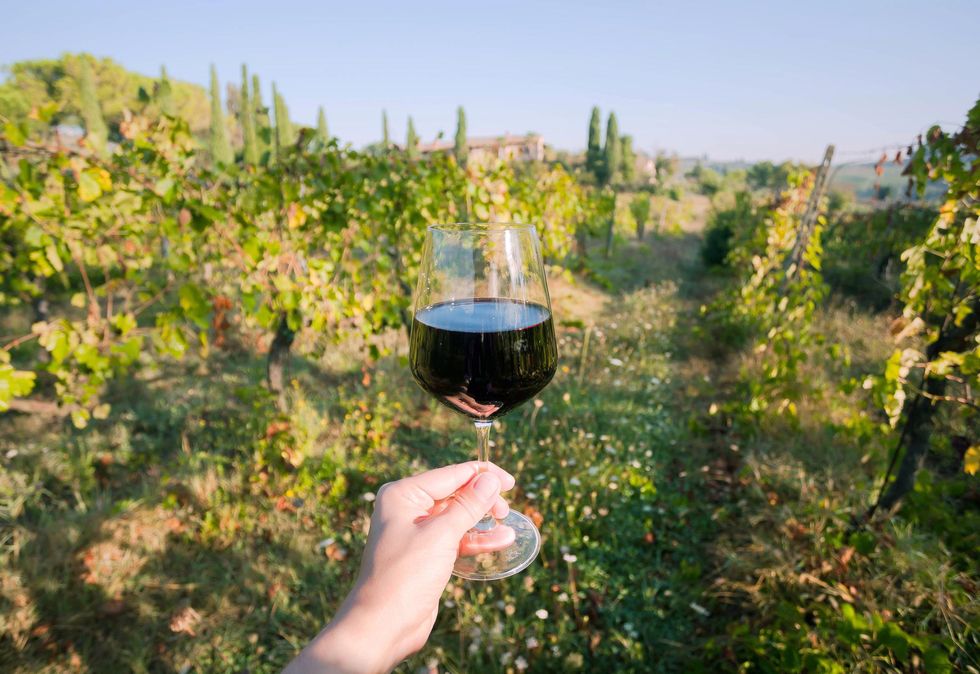 Red wine tasting in Tuscany (iStock)
Sangiovese dominates the vineyards of Tuscany but not only for Chianti. It also goes by other names. Brunello di Montalcino DOCG is a pure Sangiovese, requiring longer ageing than Chianti Classico, from vineyards around the hilltop town of Montalcino. Vino Nobile di Montepulciano DOCG, from vineyards around another beautiful hilltop town, is not dissimilar to Chianti Classico as a blend based on Sangiovese. Heading south, Morellino di Scansano DOCG provides another interpretation of Sangiovese, this time nearer the coast.
Things change on the coast in the vineyards of Bolgheri where the estate of Sassicaia established a reputation for wines based on Cabernet Sauvignon and others have followed, developing more wines based on the French varieties of Bordeaux, notably Masseto, a stylish Merlot from Ornellaia. The vineyards of the Maremma, as the coastal area is called, have developed enormously in recent years with the creation of new DOCs, Montecucco, Monteregio di Massa Marittima and Capalbio.
Although Tuscany appears to favour red wine there are also some delicious whites being made, notably a growing amount of fresh sappy Vermentino from the coastal vineyards. The dramatic hilltop town of San Gimignano is the home of Vernaccia di San Gimignano DOCG, where refreshingly saline wines are made from vineyards where once there was the sea. Another dramatically situated town is Pitigliano, in southwestern Tuscany: it too is known for its white wines based on Trebbiano. Montecarlo in the hills near Lucca is another island of white wines.
The arrival of Cabernet Sauvignon in Tuscany is not in fact new. In some places French grapes were introduced to the region very early. The essential characteristic of the DOCG of Carmignano is the mandatory ten per cent of Cabernet Sauvignon, with a maximum of 20 percent, which distinguishes it from any neighbouring Chianti. Pomino is a small DOC near Florence that also allows for international varieties, namely Pinot Noir and Merlot and, for the white wines, Chardonnay, Pinot Bianco, Pinot Grigio and Sauvignon.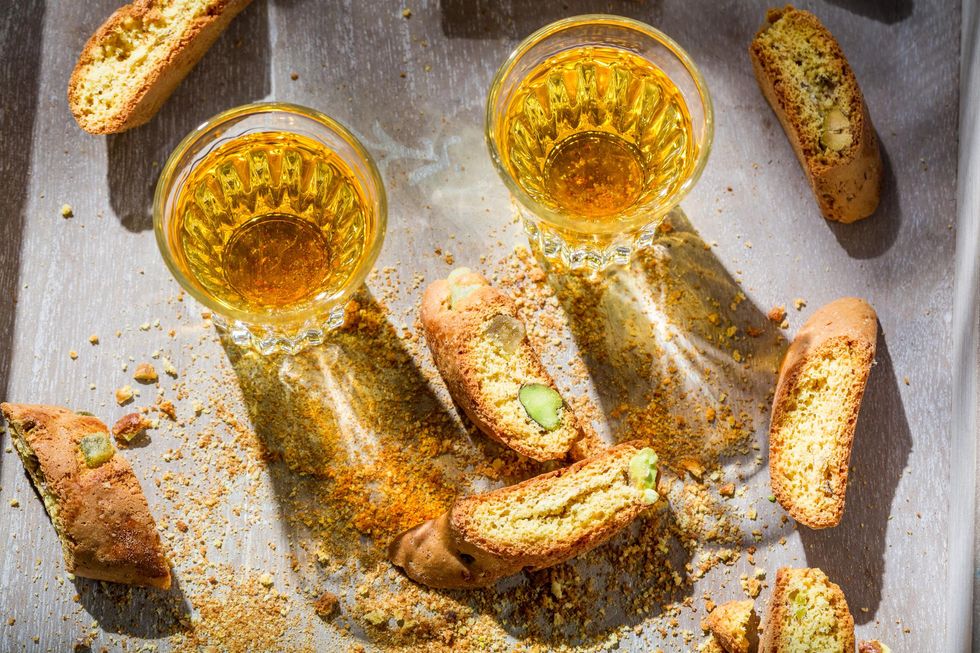 Italian cantucci with Vin Santo (iStock)
More often Cabernet Sauvignon and the other international grape varieties are used for the vini da tavola, or IGP, the numerous more experimental wines that do not conform to any DOCs – the so-called Super Tuscans. Here creativity is the name of the game, and the aspirations and prices can be high, and many have acquired a reputation above their neighbouring DOCs. Some have also gained official status, such the DOC of Sant'Antimo, which covers the vineyards of Montalcino but allows for the likes of Cabernet Sauvignon, Merlot, Chardonnay and others, without a drop of Sangiovese.
There are unexpected pockets of vines all over Tuscany. Candia dei Colli Apuani is made in the marble hills towards Liguria. Parrina, in the south, is almost into Lazio, while the island of Elba produces an unusual dessert wine from sun-dried Aleatico grapes. And then there is that most Tuscan of wines, Vin Santo – or holy wine – that is made from grapes that have been passiti, or left to dehydrate for several weeks to concentrate their sugars. They are then pressed and their juice is left to ferment very slowly and aged in small barrels, exposed to changing seasonal temperatures in a draughty attic. The result is one of the most delicious and original of Tuscany's many wines.