The properties of the pomegranate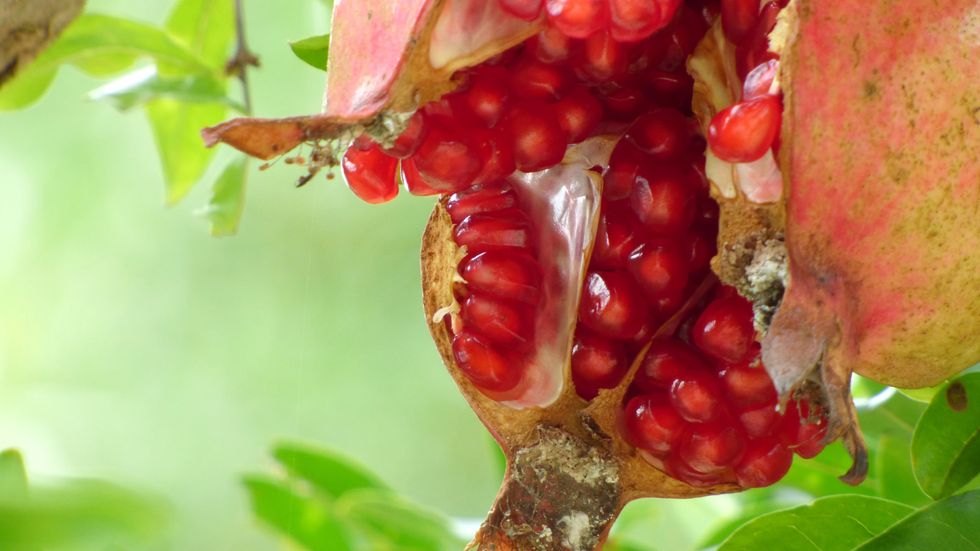 In season from October to December it is called the "autumn vaccine" for its many beneficial properties. But it is above all good and cheerful because of its color and its small grains, versatile in a thousand sweet and savory recipes.
Round, wrinkled on the outside but rich inside with a complex and fascinating structure, made of sections, semi-ruby, pulpy but hard inside, as small as pebbles. The pomegranate is a fruit with a thousand surprises.
We have already discovered that it is loaded with vitamin B6, which drives away bad mood and is very precious in particular for those who smoke, those who take the contraceptive pill, those who do shopping those who eat little proteins. We found it paired with salami, because fruit paired with cured meats lowers their salinity and intrigues their flavor. Now let's discover some more beautiful and interesting things about this fruit with a powerful symbolism.
Queen of the autumn months, it comes from India and other regions of Western Asia but is widespread - even in the wild version - throughout the boot. Its vermilion flowers as well as the fruits are synonymous with opulence, fertility, wealth , and for this reason they are offered as a gift to the spouses in the world. Their bright color makes them typical elements of decoration for Christmas.
But where the pomegranate is able to best express its qualities is wealth in well-being for man, its fruits are in fact an elixir of health and long life . It is no coincidence that the pomegranate is called "the autumn vaccine" : its seeds, eaten raw as candies, in yogurt, salads or recipes, centrifuged, in juice, in jams and jellies, have in fact many different properties which help maintain a good level of physical well-being. Like garlic, honey, cabbage, ginger & c, it is part of the foods that help prevent the flu byraising the immune system . But the pomegranate is also much more. And science, in recent years, has shown how it can help fight some diseases.
A concentrate of vitamins - The pomegranate is very rich in vitamin C, a whole fruit is in fact able to satisfy 20 percent of a man's daily requirement of this vitamin. Not only that: it is equally rich in B vitamins and vitamins A and K.
Minerals and antioxidants - Likewise, pomegranate is very rich in antioxidants, and in minerals such as potassium, iron (which makes it perfect for those suffering from anemia), calcium, magnesium, phosphorus and only partially manganese and zinc. Thanks to their contribution it is a candidate to become a natural aid to strengthen the immune system, especially in this season, when the body needs help to fight the first colds and the first influences.
A cure-all in many different fields - Several scientific researches over the years have shown how the properties of the pomegranate can be useful in many fields: the juice fights nausea, diarrhea and intestinal parasites, also stimulates appetite and has a barrier effect, if consumed on a daily basis, for the development of Alzheimer's disease. The flavonoids contained in its seeds help keep the heart healthy, the antioxidants and phytoestrogens rebalance the hormonal system and mood swings typical of menopause.
In the kitchen - In addition to being good, pomegranate seeds have very few calories, about 80 per 100 grams. To enjoy its properties, its consumption in centrifuge is ideal, to be drunk immediately to avoid oxidation in light. Its juice is an alternative condiment to soy, lemon or vinegar, and is great to try with white and red meats. It gives color and taste to risottos, it is perfect in salads. In addition to being tasty and inviting to the eye, it has the function of increasing the digestibility of some foods, such as very elaborate main courses. Finally, it is an excellent accompaniment to spoon desserts, yoghurt, excellent in jam and jelly, as well as being the base of the grenadine syrup commonly used in cooking and in the preparation of cocktails.