Tortellini in broth with puff pastry crust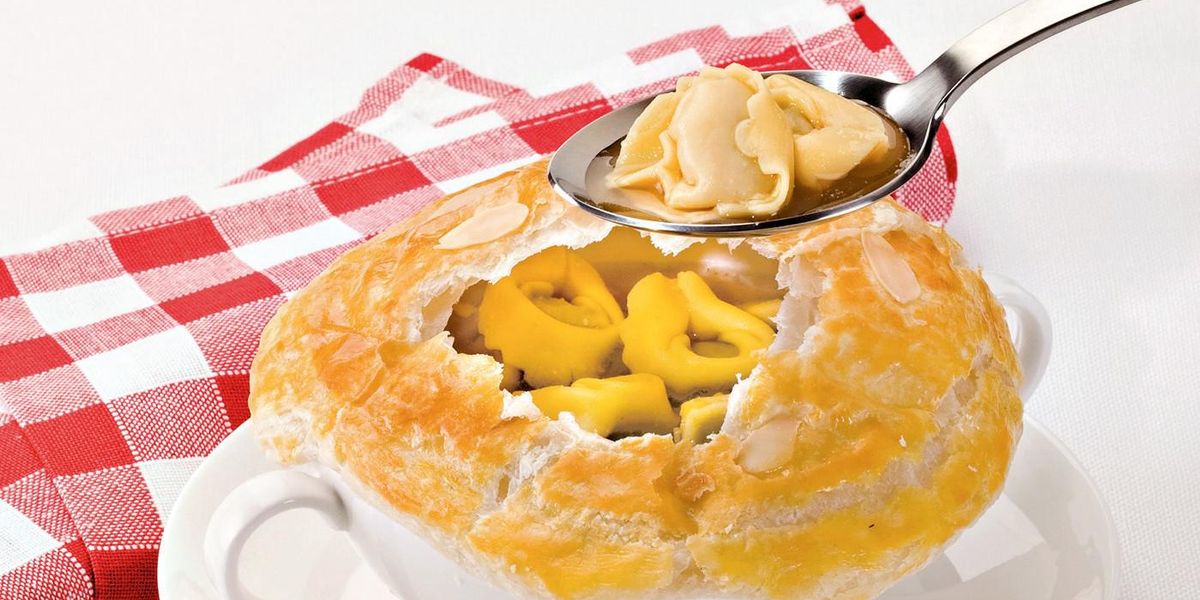 Discover how to prepare this traditional recipe of the Italian cuisine, perfect to serve during the Christmas holidays.
The tortellini in broth with puff pastry crust is a tasty recipe for a main course different from the usual, perfect for the Christmas menu or for the New Year's Eve dinner. Tortellini are the traditional dish of Northern Italy, but we present you a chic version of it! The Sale&Pepe recipe is very easy to make: you need to buy a pack of tortellini and a roll of puff pastry; but if you want to make this dish truly unique and delicious, you can make homemade tortellini.
Historically, tortellini are made on holidays because they are "rich" in meats and are laborious to make. Tortellini are ring-shaped fresh egg pasta filled with a mix of meats and cold cuts, flavored with nutmeg that gives to them a unique taste. You can match tortellini with what you want: broth, Bolognese sauce, mushrooms, cooking cream, and ham…
So, if you want to challenge yourself, enjoy cooking the tortellini in broth with puff pastry crust! Success is assured!
Cook the tortellini in broth
Boil the meat broth and add the tortellini to it; remove from the heat when the tortellini start to soften. Add the white porto and the chopped aromatic herbs (fresh chives and parsley).
Pour into the little bowls
Move the tortellini into 6little porcelain bowls suitable for baking in the oven, and make sure that the tortellini are all covered in broth.
Place the puff pastry
Cut the puff pastry into 6 disks a little bit wider than the bowls. Cover and seal each bowl with a pastry disk, and make sure that the pastry is well attached to the bowl.
Bake and serve
Beat the yolk with the milk, and brush the pastry with it; spread the sliced almond on the bowls and cook in preheated oven at 430°F for 12 minutes, until the pastry puffs up and turns brown. Remove from the oven and serve immediately.