Pizza with ricotta-filled crust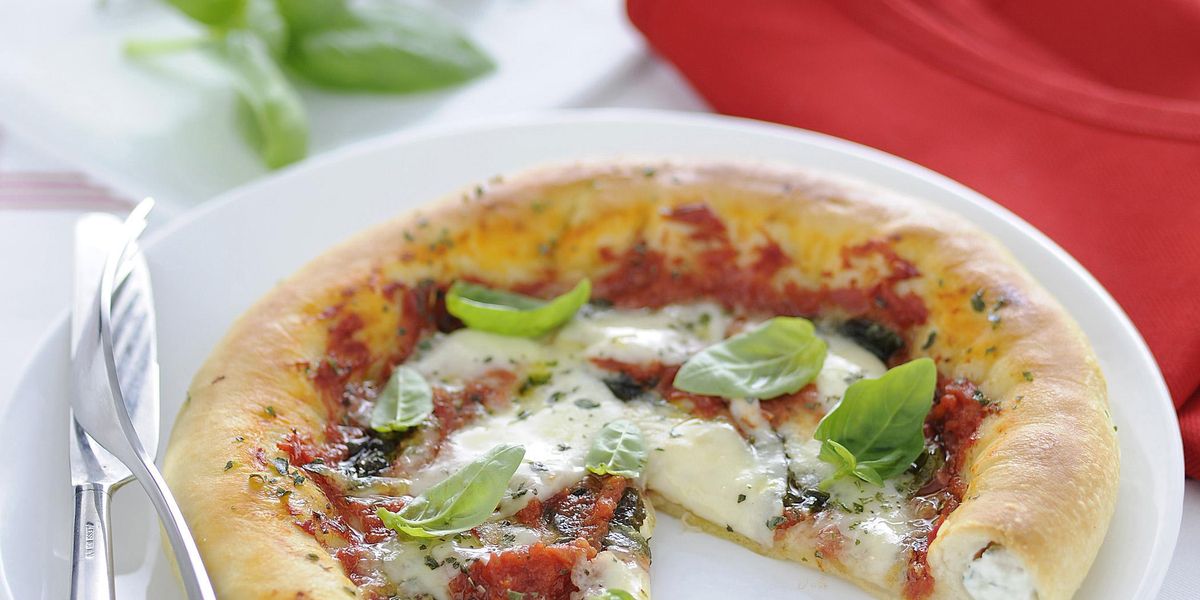 A typical and unique Neapolitan recipe: this is how to create it.
This pizza with the stuffed crust with ricotta is very particular, is a recipe that all the pizza lovers must try! The origin is certain: it's Neapolitan, from southern Italy. While you eat, it seems a classic Neapolitan pizza, but as arrives the moment of the crust, it comes the surprise! So, it turns into something more than a simply Neapolitan pizza: the crust contains a rich ricotta filling, flavored with fresh basil, while the pizza is topped with tomato pulp, mozzarella cheese, and extra virgin olive oil. The pizza with ricotta-filled crust is an explosion of Mediterranean flavors and colors, and it's hard to resist: it's so light and digestible that at first taste surprises and conquer even the real Neapolitans! It's not difficult to prepare the pizza with ricotta-filled crust, is the same procedure as the Neapolitan pizza, except for the filling and the edge folding. Sale&Pepe starts from ready pizza dough, but if you want to prepare the dough click here, knowing that is suggested a long leavening.
Prepare the cheeses
Cut the buffalo mozzarella into slices, put it in a strainer, and let drain its preservation liquid. Strain the ricotta, place it in a bowl, and mix it with 10 thin chopped basil leaves. Transfer the mix to a pastry bag with a large plain nozzle.
Form the disks
Divide the pizza dough into 4 parts, 7 ounces each. With floured hand, press and roll the dough, until obtaining a thin disk. Place the disk in a 9-10 inches diameter pizza tray, grassed with oil. Keep the edge of the pizza an inch out of the tray.
Place the ricotta
With the pastry bag, form a ricotta circle, along the circumference of the tray, more or less an inch from the edge; fold the edge to cover the ricotta and seal it by pressing with wet fingers.
Complete the pizza
On the pizza distribute the tomato, a pinch of salt, basil, and oreganos. Complete the pizza with a drizzle of oil.
Cooking time
If you use a traditional oven, put it on static mode at 540°F, when it gets hot, bake the pizza for 10 minutes. Remove from the oven, garnish with the mozzarella thin slices, and bake for 5 minutes more.
If you have the refractory stone or a pizza oven, put even the mozzarella on the pizza before baking, then bake for 4-5 minutes. Serve the pizza with a drizzle of extra virgin olive oil. Then repeat the process for the other 3 pizzas.