Wholewheat spaghetti with Zucchini/Courgette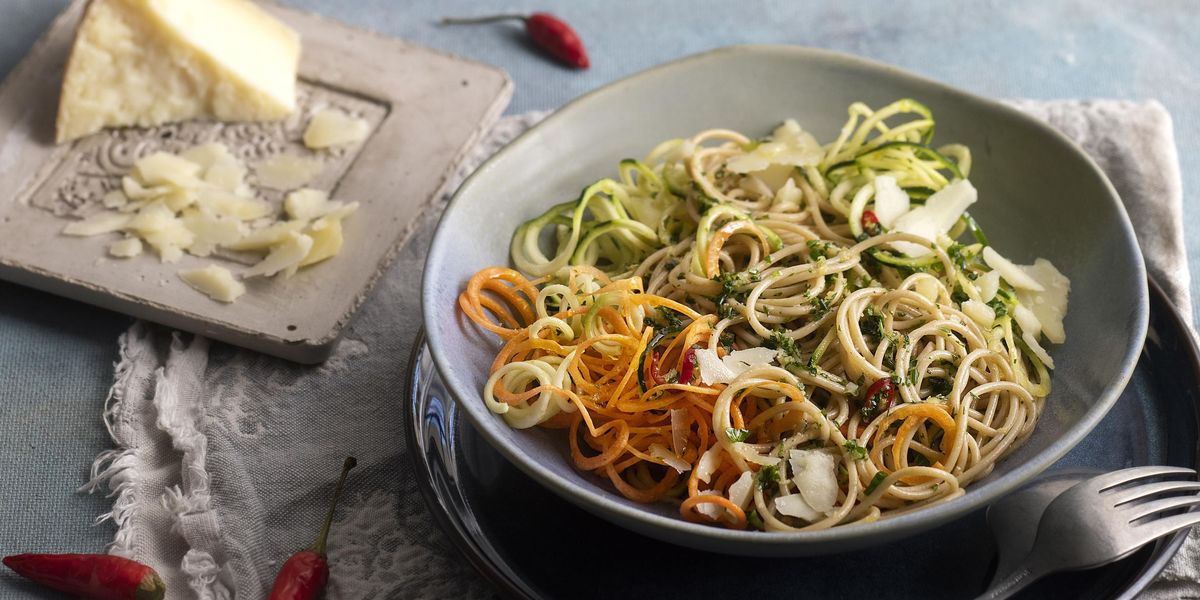 Spiralizers are fun to use and kids love to make the long 'spaghetti' from vegetables. They're also a healthy way to get them to eat more! This recipe combines real spaghetti with carrot and zucchini/courgette spaghetti in a colorful and easy dish.
Peel the carrots, cutting off the tops and tips. Cut the ends off the zucchini/courgettes. Using a spiralizer or mandoline, make long 'noodles' from the vegetables. Place them in a large colander and set aside.
Make the pesto: combine the parsley, chives, garlic, lemon zest and as much chile/chilli as you like in the bowl of a food processor. Add 1 1/2 teaspoons salt and the olive oil. (Alternatively, chop the herbs, garlic and lemon by hand, adding the oil and salt in a bowl.)
Bring a large pan of salted water to the boil for the pasta. Cook the spaghetti according to the instructions on the package, being careful not to overcook it. Drain the spaghetti in the colander with the vegetables in it.
Turn the vegetables and spaghetti into a serving bowl. Stir in the pesto. Serve immediately, with grated or shaved cheese on top if you like.