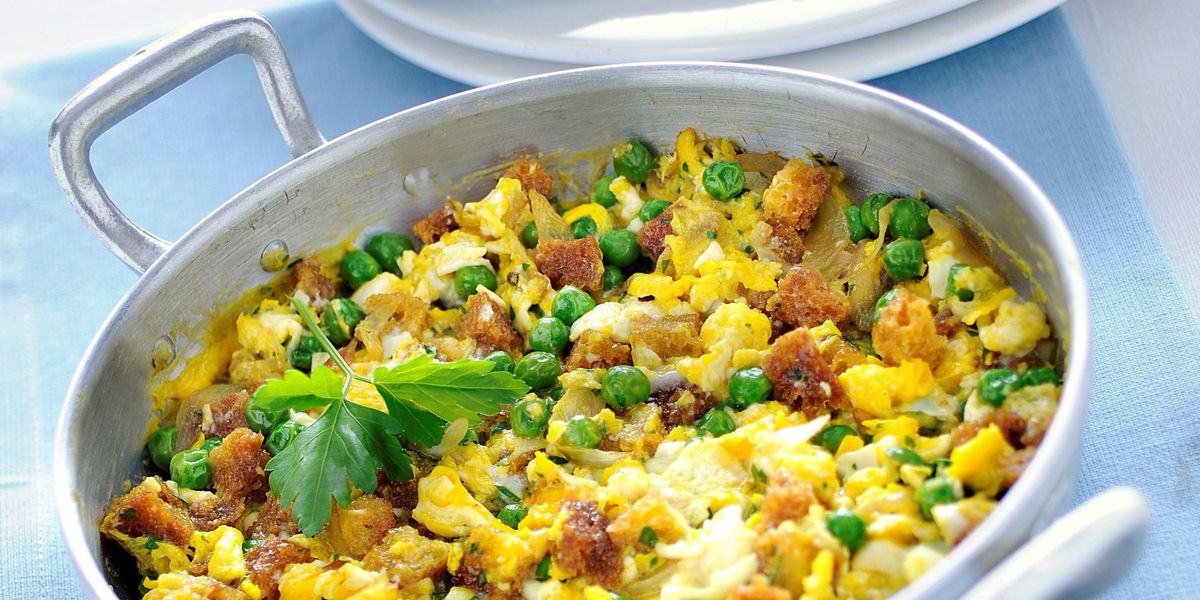 If you have little time to spend in the kitchen and you want a second course full of taste, try the eggs with bread and peas recipe, a very quick version of the scrambled eggs, traditional in southern Italy.
Follow the instructions and get your dish ready in a few minutes!
Prepare the sauce
In a braiser pan, roast the sliced thin onion with half an ounce of butter. Add the peas and pour a ladle of hot water. Cook for 10 minutes, and season with salt during the cooking. A few moments before turning off the heat, sprinkle with chopped parsley and freshly ground pepper.
Prepare the bread
​Fry the diced bread in 4 tablespoons of extra virgin olive oil. When the bread is browned, put it to dry on absorbent paper to remove the excess oil.
Complete the dish
​Beat the eggs with freshly ground pepper and a pinch of salt, then pour the mix in a non-stick pan with the melted remaining butter. Add the peas and the croutons. Sauté and stir until the mix starts to thicken. Now your eggs mixed with bread and peas are ready to be eaten, warm.
Some variants of the eggs with bread and peas
In southern Italy, in Sicily, the eggs with bread and peas are prepared in different versions: for example, if you want to make a richer and creamier dish you can add little cubes of ham and scamorza cheese (or even the mozzarella). For those who prefer a lighter and more digestible dish, instead, the fried croutons can be replaced by small pieces of toasted bread.