Mussel, Potato and Rice Tiella Casserole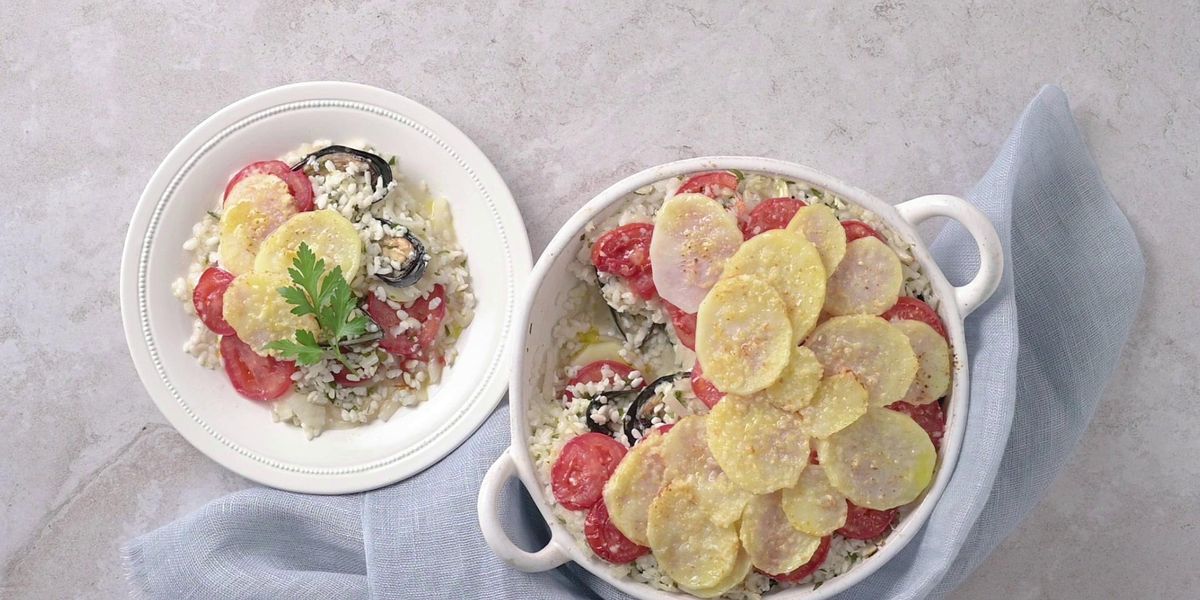 This recipe comes from Puglia, in southern Italy. There the tiella is a very popular kitchen utensil: a low, round terracotta casserole, usually with its cover, that was traditionally used for cooking one-dish meals in the family fireplace. Nowadays they are more often used for oven baking. There are many combinations, always involving vegetables or seafood with some sort of starchy ingredient to soak up the juices.
Using a strainer, rinse the rice under cold running water and set it aside to drip. Combine the parsley and garlic in a medium bowl with ½ tsp salt. Add the rice and stir to mix well.
Clean the mussels by scrubbing them with a brush under cold running water. Remove the beards and any surface dirt and rinse again. Using thumb and forefingers, gently rub the two halves of the mussel shells together to loosen them. Run a sharp fine knife blade between the shells and open the mussels, scraping the contents onto one half. Discard the other. As you work, hold the mussels over a bowl to catch any liquids they release. Keep the mussels cool as you work. When all the mussels have been opened, pour the mussel water through a muslin cloth or paper towel to remove any grit. Measure the liquid that is left and add cold water to it to make up 28 fl oz/3 ½ cups/800ml.
Peel the potatoes. Slice thinly and blanch them in a pot of boiling water for 2 minutes. Cut the tomatoes into slices and leave them to drain in a strainer set over a bowl. Slice the onion into thin rounds.
Preheat the oven to 350°F/180°C/GasMark4.
Assemble the tiella by rubbing a shallow casserole with extra virgin olive oil. Arrange half the onion slices in a layer on the bottom. Top with a layer of half the potatoes, followed by half of the tomato slices. Season with salt and freshly ground black pepper. Sprinkle with half of the rice in an even layer. Add half of the cheese. Make a layer from the mussel halves, arranging them side by side with the mussels facing upwards. Add the remaining rice in an even layer, followed by the cheese, onion and tomato slices. Top with the overlapping potato slices.
Drizzle with 4 tablespoons of extra virgin olive oil. Add the reserved tomato water to the other liquids and bring them to a simmer in a small pan. Pour the hot liquid carefully into the casserole. Cover tightly with foil. Bake for 25-30 minutes, or until the liquid has been absorbed and the rice is tender. Remove from the oven and allow the casserole to stand for 5 minutes before serving.